When you hear the words "garden gnome", the first things that come to mind are (probably) pointy hats, fishing rod, reassuring smile, big white beard and so on.
The sweet and innocent things you'd find decorating your nan's backyard, in between the plants.
Probably the last thing that comes to mind is "infected by the zombie apocalypse" – but then you haven't met these two Zombie Gnomes from Red5 yet, have you?
Far from sweet and innocent, these zombie gnomes are less likely to be found in your nan's backyard, and more likely as background scenery in an episode of The Walking Dead.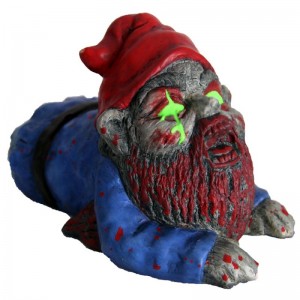 The zombie gnomes (£14.95 per gnome) come in two tasteful styles.
First up we have the Standing Gnome, which is dressed in a blood-splattered take on the usual gnome attire (with pointy hat and all).
This gnome is missing a finger, has hellish white eyes and a beard caked in blood. His skin has the kind of healthy blue-white hue you'd expect from a good zombie, and he has a menacing snarl that would scare the living daylights out of anyone.
Zombie Gnome Crawler.
He's lost both of his legs (according to the blurb on the website, this happened during a skirmish with "an intruding badger"…). He's similar to the standing gnome, with the exception being his infected eyes, which are glow-in-the-dark.
I'd say this one would work brilliantly sitting on the edge of a surface (like a pond or a plant pot), making it look like he's crawled out of it looking like that.
Sturdy Undead
Both gnomes are made from hand crafted terracotta, treated with weather-resistant paint, so they can take a bit of a knocking. The standing gnome measures approximately 29cm x 10cm x 12cm, while the crawler comes in at about 23cm x 12cm x 14cm.
With Halloween just around the corner, these fellas could work perfectly as scary decoration – perhaps have the crawler gnome emerge from a bowl of candy…? Or you could set them up as regular garden gnomes (with a twist) and scare everyone who comes across them.
Either way, these two look like a lot of fun. Just… you know, don't get bitten by either of them.