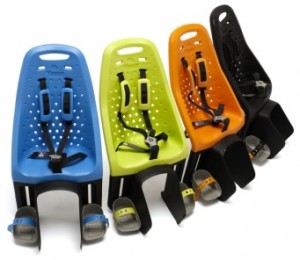 When the time came to buy a bike seat for my daughter I did what I always do: spent ages researching the best children's bicycle seats, whittled it down to two Dutch brands (GMG Yepp and Bobike), agonised over my decision for weeks and finally bought the wrong one.
The problem was, I opted for the Yepp Maxi with seat post mount. It's a child's seat designed to attach to the rear of your bicycle, which lasts a lot longer than the front-mounted seats thanks to a bigger frame.
But I've got a hybrid bicycle designed as a good, solid commuter bike, not a big Dutch bone shaker. And although my wheels are bigger than a mountain or or road bike, it's only a 15-inch frame to suit my teeny legs.
It turned out there just wasn't space for the Yepp Maxi on the back, not matter what I did.
Fitting the Easy Fit Yepp Maxi version also wasn't an option because there wasn't enough space between my seat post and the back of the bike to fit a pannier rack without extenders (this is getting complicated, I know; you can imagine how much fun I had trying to work all this out).
Even if I could get this to work, there wouldn't be enough room for my daughter's legs in the seat.
False economy
So I fitted it to my husband's bike and started again. (I couldn't return it because I cleverly bought it from a Dutch online bicycle shop. It was a lot cheaper that way, but the return cost ("idiot tax") was about £35 which was more than I could part with).
After reading more about it, I decided to go for a front-mounted children's bike seat.
The reason I had ruled them out before was concerns over safety (a lot of American forum users seem especially troubled by them), the shorter lifespan (they tend only to fit till your child is 2-3 depending on weight) and the worry that my bicycle frame would be too small again.
But, having read more I discovered that cars tend to hit bikes side-on not head first so there's no increased risk sitting in the front (you're all equally dead wherever you sit). Plus, it's actually a lot lighter to carry a child on the front – as anyone who's tried a front basket compared to a dead weight pannier bag can attest.
Front-mounted children's bicycle seats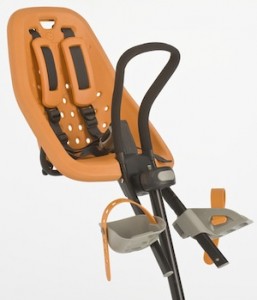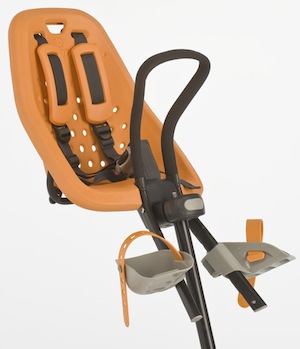 Once again, I had the choice between the lovely, small Bobike Mini or the bright, but slightly bigger Yepp Mini.
This time, crippled with indecision and the fear of getting it wrong again, I involved the owner from The Dutch Trading Company in Brighton.
Stuart imports both Dutch Bobike and Yepp brands and sells them at really low prices. He talked me through the different options, we discussed the size differences, and eventually he kindly offered to send me both seats, charge me for one and pay for the return of the one I didn't want.
I'm not sure everyone will get such generous treatment, but you'll certainly get great customer service.
Anyway, the very kind offer galvanised me to stop dithering and make a decision. I got the one I wanted all along: a bright orange Yepp Mini.
Best bicycle seat for children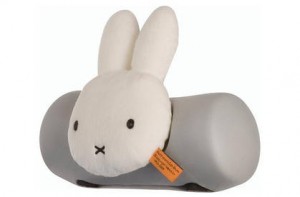 I absolutely love this seat and so does my daughter. She'd much rather go on the front of my bike than the back of her dad's. The fact that she's right next to me when I cycle means I feel safer with my arms either side of her (whereas my husband always feels a bit uneasy because he can't see her), plus we can sing songs as we go. It's really light to steer too.
I didn't splash out on a Miffy sleep roll, but since my daughter kept nodding off before the ends of our journey, I've decided to get one for the next baby when she's born.
From now on, I'm just going to pick everything based on colour and looks. Much simpler.
Other places to buy: