I like to think I know a lot about the range of sex toys out there. As a sex columnist, I'm not shy about trying new things or exploring all kinds of weird and wonderful fetishes. From foot fetishes to anal beads, strap-ons to swingers, I've seen them all (if not tried them all) and don't really bat an eyelid at much these days.
Until now.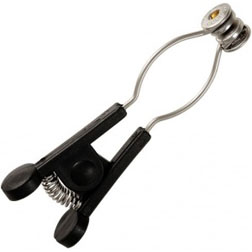 The Electrastim Bi-Polar Clamp really is something else.
The "device", as we'll call it, looks a little bit like something you'd use in the kitchen but I'm not 100% sure I'd trust it near water. It's safe to say, it scares me a bit. And here's why…
As much as I'm personally happy to indulge in a bit of bondage (Anastasia Steele could learn a lot from me!), there are some things I'd draw the line at for fear of my own life.
The Electrastim Bi-Polar Clamp is, as it says, a clamp for to be applied to your nipples, clitoris or penis. What happens next freaks me out a little. While the clamp is applied to your chosen area, it sends electric signals to the various parts of the body and creates a heightened sense of stimulation. All well and good unless that stimulation is death. 
OK, so I'm being dramatic and erotic electro stimulation is perfectly harmless (unless you suffer from heart conditions) but it's one of those things I think I'd have to draw the line at. As Anastasia would say, it's a Hard Limit!
Electricity and sex shouldn't mix unless it's battery powered, don't you agree?
Have you tried this out and loved it? Or does the thought of an electric clamp freak you out as much as it does me?
If you're up for trying it (and kudos to you if you are!), you can find out more on the Electrastim website and purchase the Electrastim Bi-Polar Clamp from Harmony for £39.99.