Unless you either buy or sell your services online, you're unlikely to have heard of Fiverr. For the uninitiated, Fiverr is a site where you can hire someone to do a task for $5. I can barely buy a lunch for the £ equivalent of this, so it's unsurprising that the quality of tasks available is….varied. Among the usual suspects – illustrations, logos, really cheap blog posts, are some quite odd things. Very odd, in fact.
Here are a few of my favourites…
*Warning* One of these is slightly NSFW.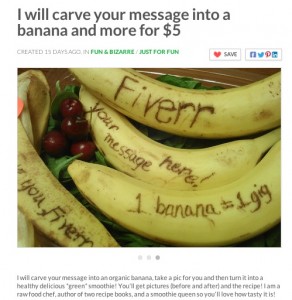 You don't even get the banana. It's a picture of a banana. I don't know why that particular detail irks me the most.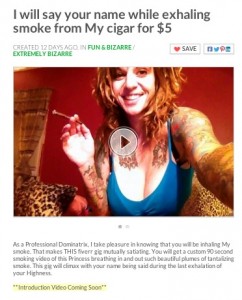 I'd imagine fans of 50 Shades of Grey are the main buyers of this Fiverr gig by Princess Blix. Or ex-smokers.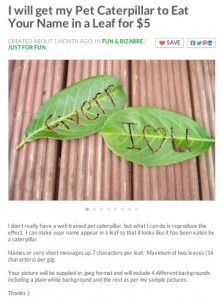 This one is weird – but initially really impressive.
Until you realise the caterpillar is imaginary, and it's really some dude with a pen, stabbing away at some leaves.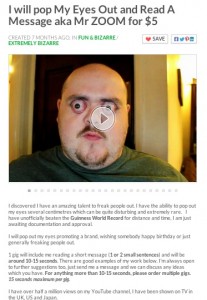 For the love of God, DON'T BROWSE THE OTHER IMAGES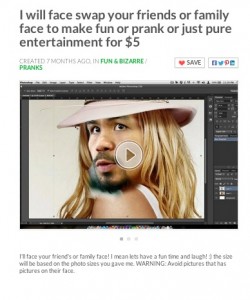 Y'know what? I'd actually use this. You could spend time doing it yourself, but $5 is a small price to pay to gently troll your friends and family.
"I will record a video message with muppet puppet Animal "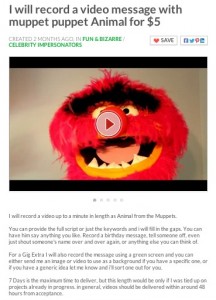 Great in theory. Really awful in delivery.
"I will as Mr Britain say whatever you want for a voiceover or video testimonal"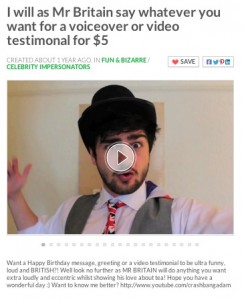 From the looks of things, this guy has had a lot of buyers. He also offers similar services in a 'Harry Potter' style. This is a man who understands how to appeal to an American market.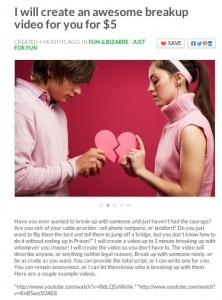 For those moments when breaking up with someone yourself is a chore.
"I will show you how your baby will look before its born"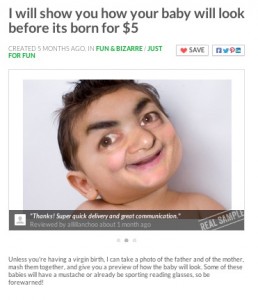 Made for Facebook prank posts.
"I will attach your message to my alpaca and take a pic"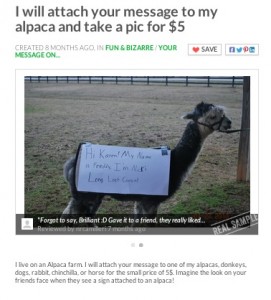 "Imagine the look on your friends face when they see a sign attached to an alpaca!" Quite.
Have you been on Fiverr? What's the weirdest gig you've seen?