With the new series of Doctor Who airing at the moment  on the BBC many of us have been going back and watching old episodes of the show too!
One Doctor that stands out as a firm favourite among many of us, myself included is Tom Baker, the Fourth Doctor Who.
The BBC Shop, knowing how much we love Tom Baker as The Doctor have a few items of memorabilia that are currently up for pre-order.
Tom Baker Replica Scarf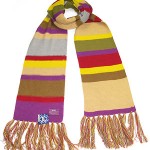 This iconic Doctor Who scarf is made to the same pattern as the original scarf worn by Tom Baker in season 12 of the show and is a lengthy 12 feet long.
The  scarf will be released on the 15th of September. It can be pre- ordered now for £49.99.
Bit expensive for an acrylic scarf – and we're not sure the colours look quite right! You could always knit your own using an archived official BBC Tom Baker scarf knitting pattern.
Tom Baker Classic Doctor Who  T-Shirt
Rather than stealing the Fourth Doctor's style, this T-Shirt has a classic print of Tom Baker on it wearing his trademark scarf and hat.
You can pre order it at £18.99.
Tom Baker Doctor Who Mug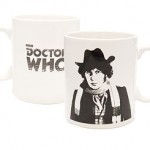 If you need a cup of tea to wash down those Jelly Babies there is now this mug with a classic image of The Fourth Doctor on it.
It will be released on the First of October and can be pre-ordered now at £7.99
If you just cannot wait to get your hands on these great new products then why not take a look at some of these Tom Baker Doctor Who items that are available right now to buy from the BBC Shop?
Tom Baker Doctor Who Wallet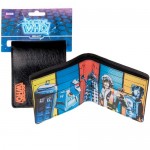 This great Doctor Who wallet features a colourful print inside of  a TARDIS, K-9, a Dalek, Tom Baker and a Cyberman.
It is currently for sale at £10.99
Tom Baker Fourth Doctor T-Shirt
"Would you like a Jelly Baby?" This Tom Baker T-Shirt features the Fourth Doctor offering his favourite sweeties. It would be rude to turn him down!
You can buy it now at £14.99.
Tom Baker Doctor Who Keyring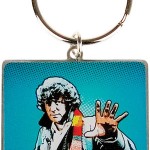 This keyring features the Fourth Doctor with his iconic 12 foot scarf!
You can buy it for yourself or a friend at £3.99.
For fans wanting even more there are lots more things on the BBC Shop website including a Tom Baker Doctor Who Journal, a Tom Baker Doctor Who Tin Tote, and a Tom Baker Fourth Doctor money Box.
Who do you think made the best Doctor Who? You don't have to agree with me!
Share with us in the comments who you think made the most iconic Time Lord and why?