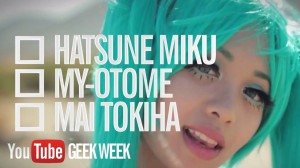 If you've been tuning in to YouTube's excellent Geek Week, then you will have enjoyed some amazing things so far. And the fun will continue until tomorrow, when you can get on board with Best Of Saturday. Meanwhile, if you can't wait and want to catch up on all the fun, here are five (of the many) highlights so far to get you started.
Global Geekery Monday brings back Knightmare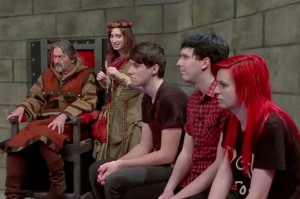 80's Children's ITV classic Knightmare was resurrected and brought into 2013. In the 19 years since the last episode aired, the show has gained a cult following (I was made a convert by my other half). Thus, on Monday, fans and nostalgia-heads alike tuned in in their droves to watch Treguard of Dunshelm (still Hugo Myatt) and his new assistant Daisy (comedienne Isy Suttie) dust off the cobwebs of the dungeon realms and welcome four famous YouTubers in the fight against the opposition (still Lord Fear and Lissard, played by Mark Knight and Cliff Barry respectively).
Get your nostalgia on and watch Knightmare here. And if you want to watch the original series, you can do so on Challenge TV every Friday from 10.30 PM
Aaaaargh! Leeches on Brainiac Tuesday
Brainiac Tuesday was filled to the tip with amazing science-related geekery. But one man went a little bit further than most of us would have dared (and he did it voluntarily). In a film by The Royal Institution called "This Film Sucks! The Science of Leeches", Dr. Tim Cockerill enthusiastically tells us about leeches, and their use in medicine. It's absolutely fascinating, but you can't help shuddering as Tim lets a leech feed on his blood for several hours.
Catch "This Film Sucks! The Science of Leeches" here.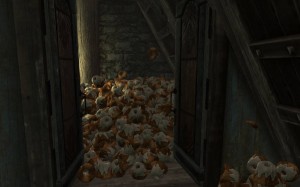 Jamie Oliver and crispy Tauntauns on Fan Friday
Personally, I'm (to put it in sensible terms) not a big fan of Jamie Oliver. But for those of you that are, today is your day to hit up YouTube and look for his 10 Fictional Foods Made Real With Jamie Oliver. That's right, the erstwhile Naked Chef brings you a top ten of videos translating fictional food favourites (Pokémon Poffins, Skyrim sweetrolls, Peeta's cheese buns from The Hunger Games,…) to the real world. Special mention to the aforementioned Crispy Tauntaun (made by the 'Tubers at Epic Meal Time) because that looks like you'd gain five pounds just from looking at it.
Catch the entire playlist, with an intro from Sir Jamie of Oliver here.
Super Wednesday welcomes Grant Morrison
Comic book writer and playwright Grant Morrison, MBE, joined in with the fun on Super Wednesday, introducing a brilliant top 10 of fan-made superhero videos. Highlights included Batman: Puppet Master (filling in the gaps between The Dark Knight and The Dark Knight Rises), The Punisher: #DIRTYLAUNDRY (with actual The Punisher star Thomas Jane reprising his role) and a fan trailer for Captain Planet.
Watch the full video with added Grant Morrison action here.
Gordon's ALIVE! on Blockbuster Sunday
Brian Blessed introduces the ten best blockbuster fan parodies. That should be enough to convince you. Go and watch, here.
You can catch all the YouTube Geek Week action on YouTube's Geek Week page.