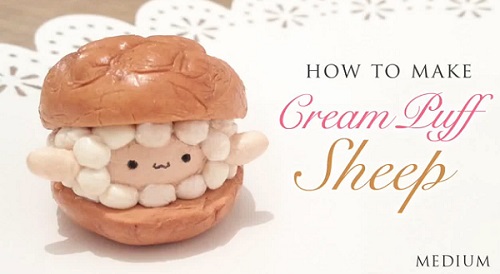 As a crafter, one of the things you'll keep hearing is that YouTube is a brilliant teacher. It's got plenty of channels dedicated to teaching you just how to do a treble-crochet, or intarsia knitting or how to needle felt a kitten without injuring your fingers.
So, because we do love our crafters (and crafts), here are a couple of crafty channels which are worth checking out.
Aside from being my absolute favourite thing to eat in this world, the macaron also lends its name to this channel. And it's a freaking adorable channel at that.
Vienna-based designer, Joanna Zhou, started this channel (dedicated to kawaii crafts) last December as a way of keeping her inspired while running her business. Her ideas come from the Japanese craft kits she tests, and she incorporates the techniques used in her own stuff. Joanna's channel is full of almost unbearably cute craft tutorials, including one for a pair of air dry clay mini macaron earrings. Just… just think about that for a second.
For crafters who like needle felting, paper and resin clay, jewellery making, makes that are so cute you won't be physically able to part with them.
It's absolutely no secret that Dork Adore loves crochet. And if you're just getting started, and you're completely lost in the (sometimes baffling) world of crochet terminology (I mean, magic ring?) then look no further than CROCHET. CROCHET is a haven for newbies, with the basic stitches explained clearly and slowly, so you can follow along with the on screen action. Best thing about it? It's got a section especially for left-handed people. So, you're not left out, even if you're a lefty.
For newbie crocheters, people who need a refresher on techniques and for easy beginner patterns.
A great resource for a tonne of different crafts. They don't seem to be updating anymore, but there are still plenty of videos on the channel to watch. If you're a papercrafter trying to get to grips with a Sizzix die cutter, there are a couple of videos to help you get on your way. Aside from that, there are tutorials on things like FIMO clay, crochet and sugarcraft.
For all-rounders, people who are looking for new ideas and for refining techniques.
Run by the lovely Sarah, SoCraftastic's got a range of really cool videos for all kinds of different crafts. If you're a bit stuck for things to do this summer, Sarah's got you covered, with tutorials ranging from making fishtail loom bracelets, to cupcakes and cookies, to making charms with polymer clay. The video editing is a bit wonky, but that doesn't take away from just how sweet and simple and good these tutorials are.
For a veritable treasure trove of ideas to make this summer.
Have you got a favourite crafty YouTube channel?