And so we end our crafty homage to social media with the very pattern that first grabbed our attention last week and sparked our quest.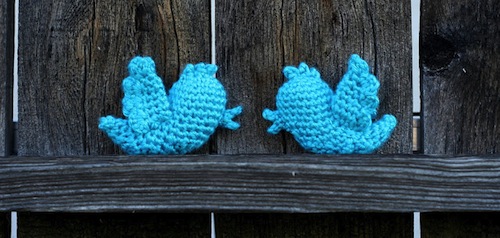 We were instantly smitten by this super cool crochet version of the Twitter logo. The marvel that is Bethany from Bethsco (creator of the footstool-from-an-old-sweater tutorial we posted a few weeks back) came up with this free crochet pattern for a 3D Twitter bird based on the new logo design.
Head over to Bethsco blog for the free pattern and full instructions — if you can tear yourself away from Twitter that is!
Bethany used Caron Simply Soft yarn in Blue Mint and Caron Simply Soft yarn in white for this pattern.
Let us know if you make this one — and leave us a link to your blog post or photos of the finished item in the comments!
Like this? Try some of these delicious links: