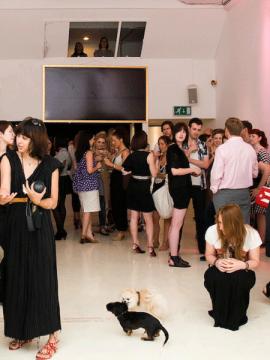 Last week I went along to the launch of Cosmopolitan magazine's first blog awards. It started at 9am (9am!) and I got there so fashionably late that I actually missed all the speeches and most of the pastries.
However, there were just enough people still wafting around the cool, creamy interior of the Future Gallery in London to make it worth my while shedding my flip flops in favour of some last-season United Nude shoes (someone's got to be fashion-backward with all those fashion-forward people in the room or the planet would topple over).
Needless to say, I didn't make it into any of the photo gallery shots, but I *did* spend some time downloading a Twitter app for Cosmo publishing director, Justine Southall. Hey, I've found my niche in life, why fight it?!
Nominate Dork Adore!
If you would like to nominate Dork Adore in the gadget/tech sector, we'd be *really* OK with that. It takes about 20 seconds (I know because I nominated Big Girls Browse by sometime Dork Adore contributor, Gemma Cartwright in the fashion sector).
****  Nominate Dork Adore for the Cosmo Blog Awards! ****
Ta v. much.