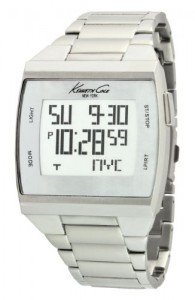 We've got touchscreen tablets, touchscreen phones, touchscreen TVs (for a lucky few), so it was only a matter of time before touchscreen watches hit the market too.
The man behind this new collection of watches is Kenneth Cole, a man better known for producing sought-after shoes than high-tech time wear. Having already been seen on the delicate wrist of Halle Berry, it probably won't be long before other celebrities are tapping away at their own KC-Touch watches.
The watches are actually fairly basic, offering a 32-city world time function, an alarm, stopwatch and luminescent back lighting. So no checking your Facebook or whizzing an email off to someone quite yet then.
Prices start at £83, and you can get them from Amazon.
What do you think about touchscreen watches? Would you get one?