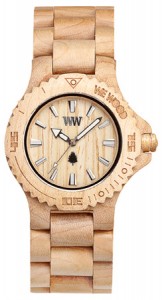 If you want to have your high-fashion with a side of environmental conciousness, then you're in luck! The eco-fashion craze shows no signs of going out of style and for those amongst us that want to be on trend all the way down to the accessories, I have good news! Presenting the WeWood Wooden Watch, a limited edition watch by WeWood, available on Prezzybox!
Designed using only natural and recycled wood, the WeWood Wooden Watch is something special. Plus, free from any toxic or artificial materials, it's a watch that will make you feel good about doing your bid for nature. The watch comes in four different designs (pictured on the right is the Date model), and as if that's not enough, every design comes in several different colours.
Want more? Of course you do. If you're worried that this might trigger a nickel allergy, fear not! The watch is completely nickel free AND hypoallergenic.
And the lovely cherry on top of this cake? WeWood has partnered up with American Forests, so for every watch purchased, one tree is planted.
If you want something environmentally concious, unique and… well, really pretty to look at, order one now!
The Date model at Prezzybox – The Jupiter model at Prezzybox – The Moon model at Prezzybox– The Odyssey model at Prezzybox