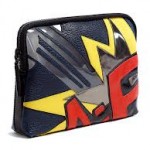 The things I do for your people. This week, I spend hours browsing through My Wardrobe for the best pieces. What a chore*.
For those that haven't heard of My Wardrobe, it's an online boutique full of the hottest designer pieces, often shortly after they've come off the catwalks of London, Paris, Milan or New York. All the big designers are there, along with a few exclusives you won't find anywhere else.
But the really great thing about My Wardrobe are the sales. Each season, they have a sale with some amazing bargains, ranging from Vivienne Westwood shoes to Alexander McQueen dresses.
As long as you don't mind buying something that's solastseasondahling (e.g. released three months ago and is probably still on the hot list), you can pick up some amazing pieces if you're fast enough.
Designer Discounts
For the frugal fashionista, this is the best way to fill your wardrobe with designer clothing without filling your bank manager with fear.
Here are a few of my favourite pieces from the site at the moment. The only dangerous thing about the site is, once you've seen a dress that's over £1,000, a dress for £150 seems relatively cheap.
It's probably a good thing that they have a discount code going at the moment, EWSEASONTREATUK, which will get you £50 off a £200 spend.
*This is a lie. I added at least three of these things to my 'Will buy when I'm rich/when it's in the sale' list.