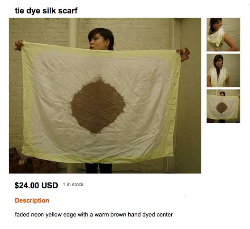 Etsy is full of some amazing items. Handmade jewellery, pretty kidswear, and intricate home furnishings.
It's also got some awesome crap.
So much crap that there's an entire website dedicated to it. Regretsy brings a regular dose of the weird, creepy and mildly perverted from Etsy.
Take the listing on the right. A crafty wannabe has created her very own tie die scarf, resembling something a guest from hell would leave behind. Who wouldn't want to snap this beauty up to keep the cold (and your friends) away?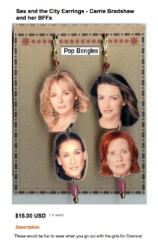 Perhaps you'd preparing for the new Sex and the City movie and you're wondering how to channel their famous Manhattan style?
What better way to do it then by wearing these dangly earrings, featuring the severed heads of the cocktail-loving ladies? It even comes in a smart little giftbox, in case you wanted to ruin someone's Christmas.
Have a penchant for the whole floating celebrity heads accessories thing? You can also pick up a pair of George and Brad dangly earrings to furnish your ears.
I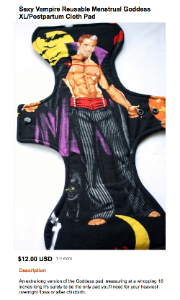 n the spirit of all the vampire chatter recently on Dork Adore, I'm sure they'll be plenty of interest in this Sexy Vampire reusable menstrual 'goddess' clothpad. In an extra large no less.
The $12 sanitary pad features a 'sexy' topless vampire with open arms, and is apparently perfect for new mothers.
Eco-friendly it may be, but I can't exactly see the marketing people behind Twilight adopting it as part of their merchandising onslaught for New Moon.
I think this listing on the left is my favourite. A Chicken Poncho.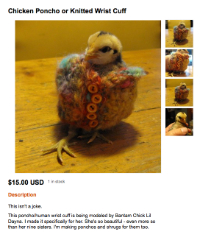 Because what chicken owner doesn't want their new additions to wear the highlight of 90s fashion? Once they've grown out of it, you can wear it as a delightful wrist cuff.
Clearly there's a market as an Etsy customer actually snapped this up for the princely sum of $15.
Found something equally wrong on Etsy? Let us know!