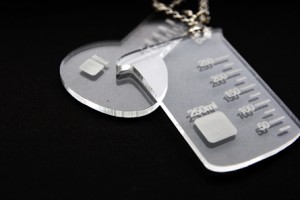 If you know me, you'll know I'm a scientist because I'm enough of a dork about it that I tend to tell everybody I meet. So, the idea of wearing some science round my neck for all the world to see got me very excited.
These science equipment necklaces (£6.99 each from Finest Imaginary) are the perfect way to scream 'I'M A SCIENTIST!' or simply "I really like beakers and vacuum flasks!"
Either way, it's putting your inner dork out there on display for everyone to know.
If you think that one's amazing, just wait till you see the other four I've picked out for you.
More science-based neck decoration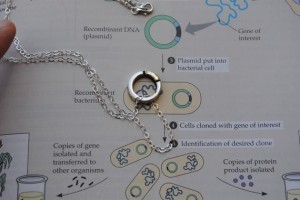 Plasmid necklace, $85 by NBdesigns
To the average bystander this pendant is just a silver ring with a gold insert but to those in the know it represents one of the most useful tools in molecular biology.  I see this necklace as something of a dorky secret symbol; imagine how smug you'll feel when somebody else realises what it is!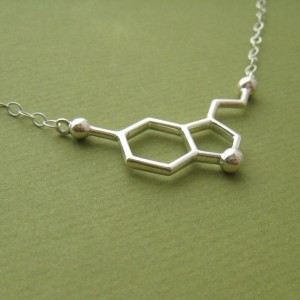 Serotonin necklace, $85 Molecularmuse
These necklaces were made by a doctor of molecular biology turned crafter — my kind of gal. Demonstrating that science really is beautiful, this simple design is in fact the structure of the serotonin molecule. Serotonin is a neurotransmitter which regulates mood: it makes you happy! Is there a better way to remember to smile?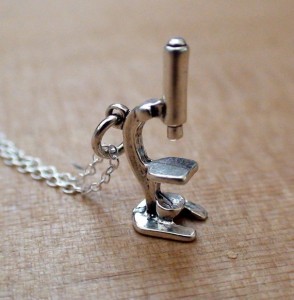 Silver microscope necklace, $12  from AgHalo
I love charm necklaces, and this sterling silver one is a bit different from the standard hearts, owls or teapots you usually see. A very delicate way of showing off your scientific credentials!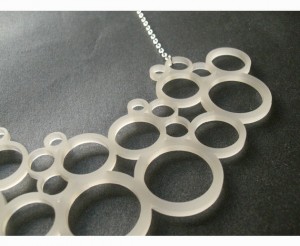 Laser cut necklace $69.50 by Morphologica
Taking its inspiration from nature, the unique shape of this  laser cut necklace was inspired by images of proliferating cells. It's definitely an eye catching statement piece and is made by yet another scientist (this time a neuroscientist) craftster.
So, which one is your favourite?
Tamsin is a crafty, geeky blogger, who can be found tweeting , blogging on her blog Miss Believer, and writing about tea over on Brew us a cuppa.