JMLs Pedi Pro Deluxe promises to 'buff hardened heels like a salon experience, in moments' so what happened when I got my feet on them?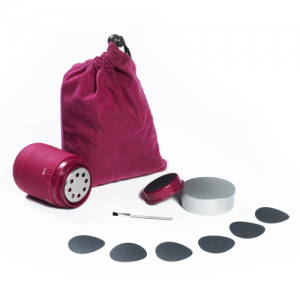 First, the basics: Pedi Pro Deluxe can be bought direct from JML, Debenhams, Asda and Boots for £19.99. It is battery operated (not included) and comes with a carry pouch, a buffing blade, seven buffing discs, a shaving tray and a cleaning brush. Pedi Pro Deluxe is from the same makers as the phenomenal Ped Egg.
Four million craggy feet
The box arrives; I am excited to see what has inspired the sale of two million Pedi Pro Deluxe units in six months. Inside are an instruction page and all the bits I need to get my feet 'ready for summer sandals', but already I am aware of a few problems.
The design is said to be ergonomic, but I find it heavy and hard to hold. I have small hands, but I'm not sure who would find this comfortable to hold for a long time. The makers describe it as 'bullet shaped'. However, if you are imaging a small, easy-to-use, mini foot scrubber, think again! I believe the weight comes from the four batteries inserted at the end of the product (did I mention they're not included in the price?)
My final concern is the instruction page. There is only a guide to fit the batteries, how to start the Pedi Pro Deluxe, how to change the blades, and other maintenance advice. There are a few warnings given, but nowhere on the pamphlet does it say how I use the Pedi Pro Deluxe on my feet. Do I just put it on my heel and keep it still? Do I have to move it? How hard do I press, if at all? What angle do I do it at?
Fortunately, I am a beauty gadget nut and can work it out, but JML should definitely include full instructions on giving a pedicure for anyone who is less knowledgeable about feet buffering apparatuses!
But does the Pedi Pro Deluxe work?
However, I am excited by the foot picture JML has on its box. If the Pedi Pro Deluxe can do this to feet, then it certainly is a little wonder machine, and I'm looking forward to the promise of a 'perfectly smooth finish'.
So, here I go…
I'm a little scared by the machine at first. The speed of the "blade" goes quite fast, however I'm pleasantly surprised when I put it on my foot and receive a light tickling sensation (rather than a foot grating experience!) The tool seems to skim over your rough skin. It slows and stops if you push too hard with it, preventing damage to your foot.
Because the Pedi Pro Deluxe came with no instructions, I decide to try everything. I prefer to move it in small circles, and at an angle. I go all over my heel and to the ball of my foot. The machine makes a lot of noise, and sounds exactly like a sander from a technology department, but then again, I suppose I am technically sanding my feet.
I change the blade head for a buffering pad and get to work again. This one creates a slight smoke (or is it skin?!) and does occasionally  feel warm from the friction. It is a nice sensation, although still noisy. I do this procedure all over my foot, repeat on the other, and then admire the Pedi Pro Deluxe handiwork.
The results are…excellent
My feet feel as though they have a new layer of skin on them and are terrifically smooth and soft. It has not eradicated all rough skin, but I think this is a weekly foot treatment to banish dry skin, rather than a quick fix. My feet are quite well looked after anyway; if you do have a lot of hard skin expect to have to use the Pedi Pro Deluxe once a week for some time before you have perfect feet.
I finish my pedicure by applying Scholl foot cream. The next day my feet are still smooth and look ready for summer (if we get a summer!) and that is thanks to Pedi Pro Deluxe by JML.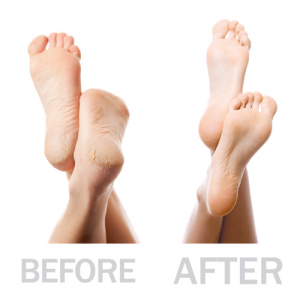 The final verdict on the Pedi Pro Deluxe
Overall, the product does what it says on the box, and I am happy with the results. Its design and heaviness did bother me, and the noise is something I would have to get used to. I do think if a buyer is spending £19.99 on the product some batteries should be included, or JML should up the price and make it rechargeable.
There is room for a second generation Pedi Pro Deluxe that will keep its pedicure power, but make the design more functional. Would I still buy it in its current state? Yes. Absolutely.
Available from JML, Debenhams, Asda and Boots for £19.99