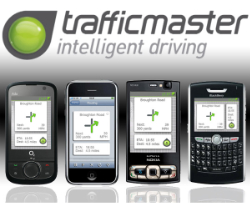 Sat Navs are there purely to help you find your way to your destination, whilst alerting you of the occasional speed camera, right?
Not according to Trafficmaster.
Their International Rescue iPhone application teams a navigation system with a real life personal assistant who can help you out when you're abroad and come across any problems. Which is particularly useful when you come up against language barriers.
You can use the app to get in contact with your PA if it's an emergency, like a car accident, or if you simply need advice on where the nearest chemist is, need a hotel booked or flight times sent.
The Trafficmaster satnav system itself is clear and simple, with just a simple directional arrow and instructions on which route to take. No fancy famous voices or choice of sports car navigators here. The system picks up regular traffic updates to help you avoid a nasty jam on the M25.
The real advantage of this new app is the peace of mind it gives you if you were to run into trouble abroad. In particular, I think a lot of parents would be happy to download this for their teenage son or daughter looking to go abroad for their first trip alone. Business people who take regular trips abroad will definitely find a use for the app too.
Wins points for
Business travellers will find this invaluable if they get in a pickle abroad. Monthly one-off subscriptions can also be bought for holidaymakers.
Cheaper than buying a full stand alone Sat Nav
Easy-to-use application
Lose points for
🙁 Price for a monthly membership is £19.99, and lifetime membership is £64.99. Not exactly cheap.
🙁 The maps aren't very detailed, but then a busy map would be wasted on a small iPhone screen.
Conclusion
Whilst it might not be for everyone due to the price, it's a great product for the friend or family member who always likes to be prepared. You can also download a version without the International Rescue for £34.99, or a PAYG version for £9.99.
Also available for Nokia, Windows Mobile and BlackBerry handsets.
Trafficmaster International Rescue SmartNav, £19.99.
More iPhone stuff on Dork Adore