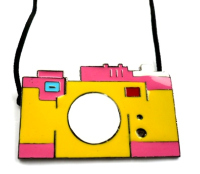 I wouldn't be a Dork if I didn't covet some geek inspired jewellery. Jewellery doesn't get any more geeky then this Snappy Happy Pink Camera Necklace (£10) on the right from Love, Hearts and Crosses.
The necklace comes in an alternative blue variety and hangs on a black suede necklace, much like an actual camera would.
And that's not the only camera necklace I've tracked down…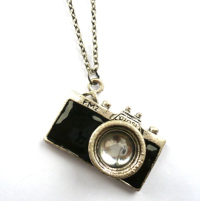 Love, Hearts and Crosses also have a Paparazzi necklace (£9) for a retro casual look. It hangs on a 70cm chain, although I'd be tempted to hang it off a handbag as a charm.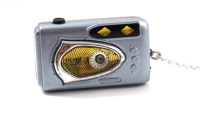 Ji Ji Kiki have this light up camera necklace (£12), which has an LED light to give the impression of a flash. It's a little chintzy but I think that's why I like it so much, it reminds me of getting through dozens of disposable cameras when I was little.
This tiny Stirling silver camera necklace ($36) is not only tiny and intricate to look at. The back of the camera pops open, much like the old-fashioned film cameras.