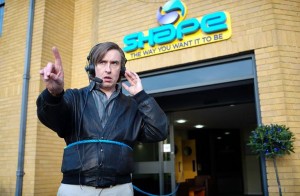 Successfully translating comedy characters from the small screen to the big screen is no mean feat. Many attempts (like Guest House Paradiso, that Keith Lemon film, The League Of Gentlemen's Apocalypse,… ) have fallen flat on their faces. But in recent years, films like In The Loop and The Inbetweeners Movie (which is getting a sequel) proved that it was perfectly possible.
So where does the first cinematic outing for Norfolk's most famous DJ stand?
The Details
Title: Alan Partridge: Alpha Papa
Directed by: Declan Lowney (Father Ted, Cold Feet, Little Britain,…)
Starring: Steve Coogan (of course), Colm Meaney, Felicity Montagu, Tim Key,…
Based on : The character Alan Partridge, created by Steve Coogan, Armando Ianucci and others.
Running time : 90 minutes
Certificate : 15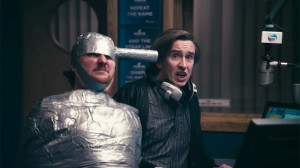 The story
All is not well behind the scenes of North Norfolk Digital. A big multinational company is in talks to take over, and rebrand the station as "Shape" (The Way You Want It To Be). Alan Partridge, still hosting Mid Morning Matters, is sent in to a meeting to try and convince the company otherwise. But when he catches a glimpse of a piece of paper which states that they plan on either firing him or fellow DJ Pat Farrell (Colm Meaney), he panics and effectively throws Pat under the bus by telling the heads of the company to "Just Sack Pat".
Pat, understandably, does not take his sacking very well. In fact, he takes it so badly that on the night of the Shape launch party, he storms the building with a double-barrelled shot gun, taking the station hostage.
When a terrified Alan runs to report to the police, the police in turn tell him that Pat only wants to talk to one person during the negotiations in this siege. And so Alan Partridge turns from radio disk jockey into one man hostage negotiator and an unlikely hero.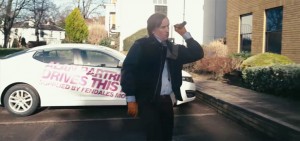 So… Good Film?
Opting to not take Partridge out of his comfort zone, and keeping the story set in Norfolk is a brilliant move. Opting to take a building-under-siege story and making it so pleasingly British is another brilliant move. Not turning this into a catchphrase fest (the only "A-HA!" I heard was from one of my fellow cinema-goers at the start of the film) and instead letting the plot go its own way without being driven by the character's quirks… yes, you guessed it, another brilliant move.
In fact, Alpha Papa is filled to the brim with brilliant moves. It's genuinely funny, and surprisingly moving (thanks to Meaney playing jilted DJ Pat so touchingly). It's full of fist-pump moments (one even includes seminal fist-pump anthem You're The Voice by John Farnham) and stunning location shots and… well, so much more.
There are moments where the pace drops, and while they don't sit well, they are quickly forgotten about.
I don't know. It's just a genuine joy to watch. In this summer filled with brash, apocalyptic actioners, Alpha Papa is a healthy antidote. Like a warm comfort blanket and a cup of hot chocolate.
See it if …
You liked In The Loop and the likes / You're fed up with things exploding on the cinema screen / You like Alan Partridge, but don't want to sit down for a 90-minute version of I'm Alan Partridge.
Avoid if…
You were hoping for a 90-minute version of I'm Alan Partridge.
More about Alan Partridge: Alpha Papa on IMDb – More on Alan Partridge: Alpha Papa on LOVEFiLM