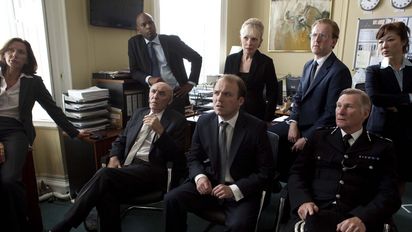 So, a pretty and beloved princess has been kidnapped and the only way she'll be returned safely to her royal home is if the Prime Minister has sex with a pig live on television. As premises for a Sunday evening drama go, it's safe to say this is one of the more audacious of 2011. Downton it ain't…
(Very) Black Mirror
We all know that Charlie Brooker is one hell of a columnist and critic, but he's also barely put a foot wrong when it comes to fiction. Sitcom Nathan Barley — which satirised Hoxton media twits — was not, it's fair to say, a critical success, but one of the main complaints was that it satirised something that was already out of date. If anything, it now feels ahead of its time; I for one would love to see what Ashcroft makes of the Twitterati.
Dead Set (zombies in the Big Brother house) fared rather better, and now there's The National Anthem, the first of a three part mini-series of Twilight Zone-inspired sci-fi satires called Black Mirror. This has been hugely lauded, and rightly so — well cast, well written and with a premise to make your stomach turn, it was something genuinely different from the genuinely different mind of Mr Brooker.
There were a few funny lines along the way (I loved the TV news editor telling his graphics guys to "keep it functional, no Peppa Pig") but this was no comedy; indeed it was played dead straight by the excellent cast which included Rory Kinnear, Lindsay Duncan and Tom Goodman-Hill. And the reaction to the bizarre ransom demand on social networks, on TV and in homes around the country was pitched perfectly — outrage, disgust, jokes and, ultimately, morbid fascination.
If anything, it was all too real for 45 minutes to carry off the "denouement", shall we call it. Every other element of this drama was so realistic that for the PM to actually go through with it for the sake of public opinion…? It was a bit too much to take, in a couple of senses. But in the main, The National Anthem is to be applauded: brave, well-made, and it made its point clearly, concisely and very creatively.
Nice guys finish first
There's a lot to dislike about reality TV, but one criticism that is utterly invalid is that it rewards idiots and idiotic behaviour. Nope, from The X Factor to Big Brother, if you want to win, the best thing you can do is be nice, funny and charming. Misha B may well have been the most talented contestant on The X Factor this year, but her card was marked the moment she was accused of upsetting other acts, no matter what the truth.
Nowhere is this more true than on this year's I'm A Celebrity Get Me Out Of Here, where TOWIE's Mark and McFly's Dougie "battled it out" to be King of the Jungle. The quotation marks are key there, are they were just really decent people who got on well and supported each other through the final eat-an-anus Bush Tucker Trial. Dougie won in the end — certainly to his surprise, but deservedly so — and so we're relying on drummer Harry to make it a McFly double over on Strictly Come Dancing.
It's become received wisdom that this year's series of Strictly is the best ever, but that's only because it's absolutely true. There have been some superb routines and, your inevitable Russell Grants aside, people have generally been voted out when it's been their time. It'll be, I'm sure, a Chelsee vs Harry final, and that will make it the most high-quality final ever. For having no dance experience, and for actually managing to make the dreaded Rhumba look good, it's got to be Harry to win. And that'll be yet another nice guy who finishes first.