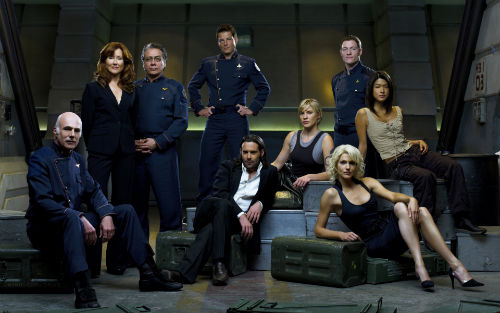 I'm beginning to suspect that my critical faculties leave something to be desired. The number of times I've found myself listening to (for some reason usually male) friends panning a season finale or a show ender while I sit in puzzled silence is starting to alarm. [OK, not really "silence", I'm not much good at muteness.]
Now, I'm aware that I'm often a little too easily pleased (I quite enjoyed Hulk for goodness' sake – though even I draw the line at The Incredible Hulk) but I can't help feeling that fangirls and boys are a difficult bunch.
Is there a single geek show that doesn't suffer from severe criticism once it reaches its end?
Buffy's finale lead to howls of protest; Battlestar Galactica caused all kinds of upset, and the death of the 10th doctor in Doctor Who got the grumblers going into overdrive (it's a kids' show people, give over). But were they really so terrible?
Since I'm so easily pleased, I quite liked the BSG finale (I'd been beaten into submission by the religious mumbo jumbo seasons ago so I didn't expect any better) and I thought Buffy did a pretty decent job of coming up with something bigger than the previous "world's going to end" season enders (though I'll never forgive Whedon for Anya).
Are your favourite shows ever going to please, when ending them is such an unnatural process (life very rarely comes to a halt after a neat story arc), or is there a show out there that bucked the trend and left the fans feeling all warm and fuzzy inside?
Twin Peaks? Quantum Leap? Angel? Is there a show out there that didn't set forums alight with the fire of geek ire? What are you favourite show enders? And what are your most hated finales?