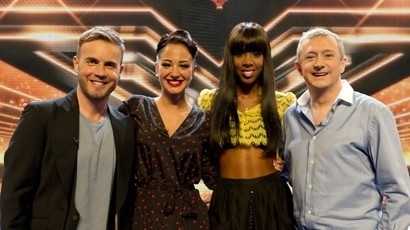 It's still August (just) and we're already onto The X Factor. What next? The return of Autumnwatch, Strictly competing for our attention and the first crappy chocolate of advent? It's all a lot closer than you think…
Yes, everybody's favourite over-blown Saturday night-waster is back, and I for one am very happy about it. It took me a good while to become an X Factor convert (it's ITV, I'm a snob, what can I say) but once you're hooked, you're hooked and as I've said before, two-screening just makes the whole thing so much more enjoyable.
Of course this time, though, it's all a bit different – Simon Cowell, Cheryl Cole and Dannii Minogue are out, and Gary Barlow, Tulisa and Kelly Rowland are in. But you know what? It still just feels like The X Factor. Britain's Got Talent suffered hugely from the loss of Simon Cowell's withering good sense (and it usually is good sense, however badly delivered) but he and his producers seem to have got the formula right here.
Tulisa is a bright, funny lass who appears to have rather more interesting things to say than the lady she's clearly been primed to replace, Cheryl; and Kelly Rowland is just a whole heap of fun. Gary's a bit serious but that balances things out nicely and Louis… well he's just Louis. He'll get the groups and not win. It's what we all want to see.
The final Hour
I felt BBC Two's The Hour took a little getting used to – it was much slower paced than I'd imagined it would be – but I have to say I enjoyed it more and more as the series progressed and am very glad to hear it'll be returning for a second series.
Ben Wishaw's acting was as impressive as his Charlie Brooker quiff and Dominic West – while not my favourite performer by a long way – did actually grow on me. Scenes were regularly stolen by Anna Chancellor and Julian Rhind-Tutt, however – more of those two next time please.
It may have all been fluffier than it liked to make out, and the big reveal at the end of the final episode had been sign-posted rather too heavily, but all in all this was massively enjoyable stuff that I actively made time on my Tuesday nights for.
Let's put Hitler in a cupboard!
I've banged on about giggling over the title of this Doctor Who episode here a couple of times, so I suppose I should dedicate a few words to its content too. I loved the dialogue – Steven Moffat at his zingy, comic best for sure – and I very much enjoyed the noticeably more courageous, Führer-punching Rory… but I do rather yearn for a time when Doctor Who wasn't ALL about ruddy River Song. For once, I'm really looking forward to the traditionally thoroughly standalone episode two…