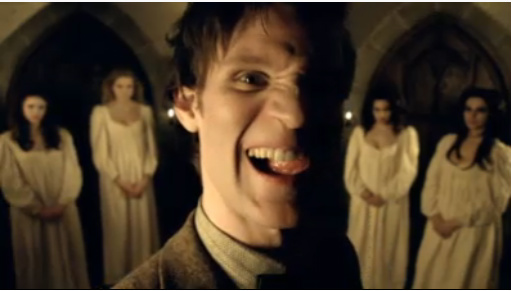 This week in Doctor Who, something very predictable happened: The Doctor met a seemingly paranormal threat, and quickly exposed it as a science-fiction menace instead. Never mind the gay agenda and the Scottish agenda, there should be more talk about the "Ghosts are stupid!" agenda.
But that was inevitable, so hardly a criticism. Elsewhere, the not-really-vampires conspired to destroy Venice, whilst the Doctor tried to both save the day and match-make Amy with her own fiancée. He did so by interrupting the poor boy's stag night in the most disappointing way possible, a scene I absolutely adored.
The arrival of Rory in the TARDIS is probably the biggest point of comment, especially since it seems he will be with us a while longer. And although he shares a few DNA strands with Noel Clarke's Mickey Smith, the new chap acquits himself well. He seems a rare voice of common reason in the Doctor's world of timestruck young women; as long as he keeps the jealous grumbling under control, he should be an interesting addition.
The blood-sucking villains, however, fail to convince as a genuine threat to our heroes, but do provide a mystery. As I remarked earlier, it was obvious they would be somehow alien; our interest lies in seeing how outlandish an explanation the Doctor provides for their apparent vampirism, and I don't think it disappoints.
And the faux-Venetian look of the episode is a pleasant change, providing a sense of history and scale that the show sometimes lacks. Although Doctor Who does very well on its BBC budget, one sometimes gets the impression that there's no corner of time and space which cannot be represented by a handful of corridors.
Ultimately, this was not a heavily experimental slice of Who, but it provides an interesting backdrop to throw the characters into. The new Doctor shows an increasing tendency to take his companions in hand, and Amy Pond clearly enjoys being the centre of attention. We basically tune in each week to go on another journey with these (fictional) people we like, and this was another fine jaunt.
A brief addendum: There was a small and fairly rubbish scandal during the week. It concerned Matt Smith being flown to Venice to film Doctor Who Confidential, wasting the precious licence payers' precious money in the process. I watched the offending broadcast, and it was the first time in ages that Confidential hasn't made me want to throw my shoes through the screen with its sheer content-free banality.
So, y'know, maybe spending some money would make it a better show. Just a thought.