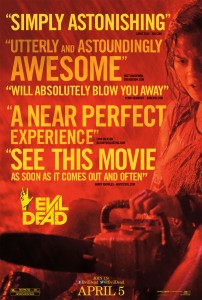 If you go into the woods today… then by all means, don't go into any dodgy-looking cabins that smell of death. And definitely don't open a very menacing-looking leather-bound book that's bound with barbed wire. Because it will not end well. Trust me.
Fede Alvarez's remake of the legendary 1981 horror-comedy classic contains familiar elements, but goes a whole new way with the Evil Dead lore. Does it fit the tagline of "The Most Terrifying Film You Will Ever Experience" ? Well, let's find out, shall we?
The Specs
Director : Fede Alvarez
Screenplay by : Fede Alvarez, Rodo Sayagues, Diablo Cody (uncredited)
Starring : Jane Levy, Shiloh Fernandez, Lou Taylor Pucci, Jessica Lucas, Elizabeth Blackmore
Run time : 92 minutes
Certificate : 18
The Story
A group of five friends gathers at an old cabin in the woods. The group is centred around recovering drug-addict Mia (Jane Levy), who wants to use the time at the cabin to kick the habit for good. Mia's brother David, his girlfriend Natalie and Mia's friends Eric and Olivia agree that they should keep her from bailing out at all costs, since her last overdose was close to fatal.
In the cabin, Mia complains about the stench of death hanging in the air, a fact that the rest of the group appears oblivious to and attributes entirely to her going cold turkey. But when David's dog sniffs out a door leading to the cellar, a set of events is set into rapid motion. The discovery of several rotting animal corpses suspended from the ceiling, a burned corpse and a book covered in bin liner and barbed wire lead to Eric opening the book. And, despite several clear warnings about reading from the book, Eric does just that, unleashing a terrible demon that puts the fivesome's lives in grave danger.
Funny Business
As I've said before in my horror film preview, Evil Dead 2013 means business. From the fact that there's next to no CGI effects (the effects are all practical, apart from touch-ups, which made for a very demanding filming experience, according to Jane Levy) to the rise and fall of the film's score, down to there being no room for the humour that made the original such a classic, it's a very unsettling watch. In so much an unsettling watch that there were moments where it became virtually un-watchable.
I have to give tons of credit to first-time feature film director Alvarez for choosing to shy away from CGI, because like it or not, it looks every bit as disgusting as you'd expect. Jane Levy gives a dramatic (if slightly overacted) performance as the tortured Mia, but despite the supporting cast being made up of good actors, the characters they play are…. well, not very likeable. Still, the film benefits from the small cast, which sets the mood perfectly.
With three new Evil Dead films already on the cards (including a sequel to Army Of Darkness and a film that will bring Ash and Mia's plots together) it looks like the Naturom Demonto and all it brings is here to stay for some time to come. If you want my advice, go and see it at your own risk.
Oh, and stay out of the woods. You know, for reasons.
More Evil Dead on IMDb – Even more Evil Dead on LoveFilm