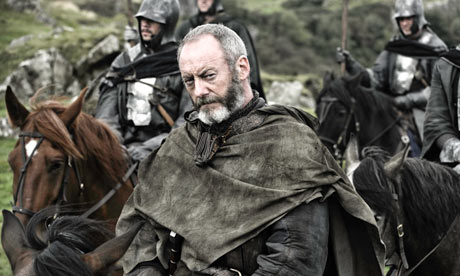 This week: the shadow baby turns delinquent already and the only "king" with a sense of humour gets given the boot.
It seems I'm in the minority on my view of Brienne's (Gwendoline Christie's) acting skills. When she first arrived on screen I scoffed that they'd cast the tallest female they could find and made do with the wooden acting. But people are loving that wooden acting! Clearly I've got it all wrong.
Still, when Brienne screamed her dismay at the sudden death-by-dust-monster of King Renly B, and later declared "I only got to hold him once" (as if holding kings was in her job description and she'd been short-changed), all I could see was a very tall piece of wood making sad-ish sounds.
Cat came out of the whole thing looking a bit less dour than usual though. Her eyes blazed and her stately demeanour carried the scenes. Makes a nice change from her usual tutting, nagging and preaching.
Loris Tyrell (Fin Jones) also switched on his 'sad face' while others acted around him. Petyr Baelish was weirdly nice, which left me wondering just what the bally hell he's playing at.
Anyway, the whole assassination just didn't feel like cricket, so it was a relief when we moved on to other parts of Westeros.
Jon Snow was looking long-lashed and sullen over the other side of the wall, while his little sister was matching him in the sullen stakes as Tywin's new impudent cup bearer.
Poor old Charles Dance is too busy dealing with all the egg on his face to realise that his steely-eyed serving wench is off chatting to the creepy con she released from a burning cage the other day. Which soul will Arya pick next?!
The female gaze gets a turn
But really none of us is actually paying attention to all of that — we're all far too distracted by Joe Dempsie's oiled up body. It's about time the female gaze got a look in: usually in this show the tits steal most of the screen time, so it was nice to see some pecs on display. Shame Jon Snow isn't likely to be stripping any time soon…
In fact, everyone was so busy fighting battles, arguing and moving the plot along that there was very little time for any T&A. Even old Tyrion had to trim his wick for the week. He was too busy picking on his wet cousin and offending an elderly gentleman.
(Oh, and fighting with his sister. Fighting with sisters was popular this week what with the Lannisters, the Tyrells and the Greyjoys all bickering away.)
But all was not lost! Dany was on hand to change into a sexy frock and give the inhabitants of Qark something to look at. As usual, her new frock arrived with a marriage proposal. But thanks to a stirring speech from slave trader, Jorah, she was persuaded that one boat was more than sufficient to return home to win back the family seat. I predict that dress will be in tatters by next week.
This episode was all about lining up the various plots for a finale. But despite the slightly bitty feel, it managed to keep me enthralled throughout.
So what next? Will the Tyrells return to their crisp empire? Will the Night's Watch ever realise they'd be much warmer with hats on? Will the Shadow Baby be given a much-needed time out? Will Bran find out about the three-eyed crow? And will someone please tell me why Brienne thinks Renly was so super anyway?
Tell me what you thought!