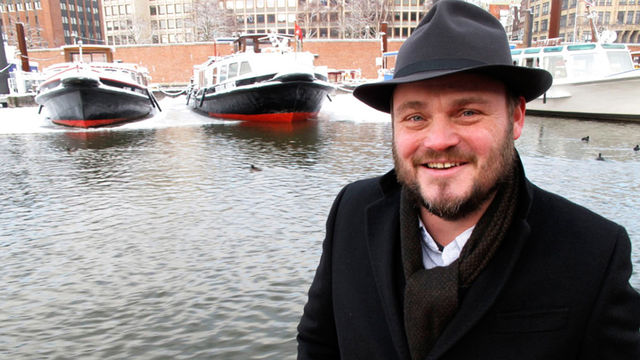 Last week, I waxed lyrical about Andrew Graham-Dixon's wonderful Art of Germany series, but it is in fact just one programme in a whole, to use the proper industry word, "strand" about our European near-neighbours currently running on BBC Four. Y'know, this weekend I have slobbed out in front of The X Factor and learned about the German Enlightenment —  don't you just love telly?
Literally don't mention the war
As someone who has made a living out of playing on German stereotypes through his Pub Landlord alter-ego – and a very clever fellow to boot – Al Murray is perhaps the perfect person to lead us on a whistle-stop tour of the country's culture in such a way that makes a point of not continually banging on about the war.
In Dresden – a city all but destroyed by aerial bombings – he finds it hard to avoid the subject, but in the main he keeps to his promise, and turns instead to lighter subjects, such as Saxony's toymaking heritage, wine tasting, Nietzsche's relationship with religion (I suppose you can call that light…?) or the intellectual hub of Weimar in the Enlightenment. With such a wide remit (anything but the war) the show does, inevitably, flit about quite a lot, but it also acts as an excellent 'Introduction to… German culture' which I, for one, certainly needed.
The thing that has struck me most about the programmes I've watched from the Germany season is the country's frankly stunning landscape. Lucky for me, then, that Julia Bradbury has taken her 'Julia goes walking' show to the Continent, with Julia Bradbury's German Wanderlust. This week she, and the camerman in the chopper who does some fine work, took us through the beautiful Bavarian alps and, a confirmed home bird, it gave me the itchiest of feet – which means, I think, that the show achieved its aim.
A poor impression of an Impressions Show
The Strictly Come Dancing fans among you may have switched on to BBC One a little early of a Saturday evening, in which case you'll have stumbled across The Impressions Show. And if that's the case, then I hope you'll join me in saying how ruddy awful it is. Call me old fashioned, but isn't the main prerequisite of an impressions show that the leads are quite good at impressions? Jon Culshaw's Gary Barlow is decent and Debra Stephenson has got Davina McCall's mannerisms down pat — but these fleeting moments are sadly far outweighed by the surrounding plethora of poor impersonations and flat sketches.
Armstrong and Miller's comedy masterclass
Thank goodness for the fabulous The Armstrong and Miller Show then, the third series of which came to an end this weekend, and has been admirably taking up The Impressions Show's slack in terms of Saturday night  entertainment. Each episode has truly been a crash course in sketch comedy — brilliant performances (props to comic Tom Basden who has supported Ben and, to be over-familiar, Xander superbly all series), a pool of excellent writers, and no over-reliance on returning characters. This week I adored the public service broadcast telling us to learn the difference between weather and climate change, and the 'Englishman gone native', and vampire sketches have been consistently brilliant. More please.
Oooh, and have you noticed that the BBC Christmas idents are here? That's the official launch of Christmas, people, so crack open the sherry, Turkish Delight and, of course, Radio Times double issue… Anyway, next week I'll be taking a look at the first ever TV adaptation of Dirk Gently, starring the usually-excellent Stephen Mangan.