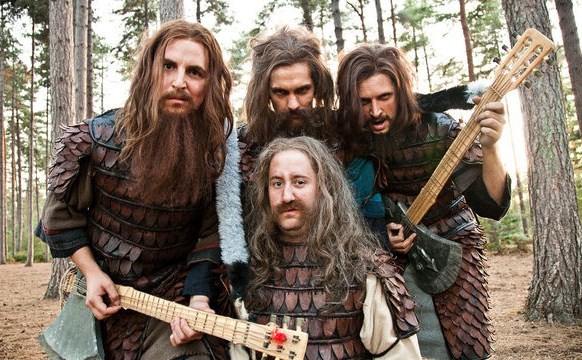 When Horrible Histories beat the truly excellent third series of Armstrong and Miller to the Best Sketch Show gong at the Comedy Awards last year, I was a bit miffed. Surely people were just being nice because it happened to be a bit better than your average kids' show? Nope. Turns out it's just really, really good.
This, actually, is Horrible Histories with Stephen Fry, a best-of collection with a plumb slot on BBC 1, 6pm on Sundays. All the cool cats have been watching it for years of course, but for johnny-come-latelies (that's the correct pluralisation, I believe) such as myself, this is a nice little catch-up.
The show has several things going for it, starting with the sublime source material. The Horrible Histories author Terry Deary had the fine idea of getting kids into history by giving the facts a human face and a joke or two and – most importantly – not talking down to his readership. The producers of the CBBC show have perfectly transferred Deary's ethos to television, and added some genuinely excellent comic actors, including Simon Farnaby and Katy Wix. It's pretty wonderful.
This week, I was particularly tickled by a sketch in which the entire English Civil War was summed up at a frantic pace by a newsreader in front of a map of the UK — all very Peter Snow on election night, with ridiculous graphics and snarky asides. Plus, who doesn't want to learn about the Vikings through the medium of soft rock? Funny, silly and (whisper it) very informative.
King of… TV shows? Not so much.
You wonder how some shows get commissioned. It's not that Channel 4's new Room 101-a-like King Of… is terrible — it really isn't, and its neat scheduling alongside 8 Out Of 10 Cats (now with added Jon Richardson) and Chatty Man means I'll probably end up watching it again — but it feels a bit… well, cable. Not primetime terrestrial, barely E4 even. One of those high channel numbers that you only get to on the EPG when there's *really* nothing on.
The premise, if you missed it, is pure pub conversation fodder: what is the best of everything? In this episode, we covered the best holidays, the best job and the best cheese. This is too many bests, people. The only reason these conversations are fun in the pub is because they go on so ruddy long; every angle analysed, debated and dismissed before a consensus is achieved. Here they just bashed through them, and came to ridiculously arbitrary decisions: Stinking Bishop was named king of cheeses because guest Chris Evans likes it, chocolatier got best job (yawn) because someone in the audience was one and the spa break won best holiday (what?!) because host Claudia Winkleman just took an executive decision.
It was fine. A penguin trainer came on with a penguin that chased Claudia around the studio. A mouse was given the choice of several different cheeses. Sarah Millican was funny. But that, I think we can all agree, probably isn't enough.