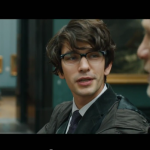 After the disappointing last outing (which we will endeavour to strike from our memories) the new James Bond trailer has got us all excited.
Skyfall is going to be great!
Or at least, this trailer has been cut to make it look like it's going to be great. Our geekdar was going off at the sight of Judi Dench, Ralph Fiennes, Javier Bardem (using the tried-and-tested bleached hair = evil shortcode) and lovely Ben Whishaw as Q. Check out the Skyfall IMDB page for the full line-up.
Fingers crossed, people! It looks like a goodie!