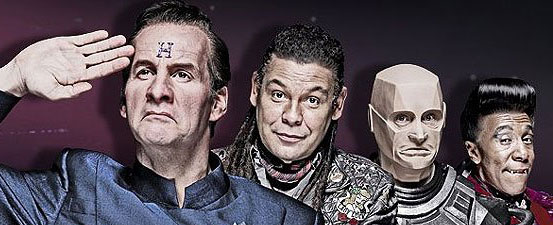 The series finale of Red Dwarf X is here, a tenth run that has swept through some great scenes, trudgy plots, awkward jokes, fine character humour and weird budget constraints. The last couple of weeks have, in my opinion, been the weakest though – can they pull it back for the ending?
And what about those rumours of them finally resolving the series eight cliffhanger? Well, probably best to watch it on the Dave site to find out before reading on.
Where Is "Where Is Kochanski?"?
I admit, this episode doesn't bring together subplots beautifully. During this series, we've had hints about the team "looking for Kochanski", plus a few mentions of Lister taking an exam to better himself. Neither are mentioned here.
But this is a comedy not a drama, and neither of those threads were prominent enough to feel that cheated by their failure to resolve. The finale does at least display both a rare sense of threat and the best special effects so far, as our heroes are dragged into a genuine space battle. Clearly last week's low budget effort really was to save resources for this.
More to the point, not only do they ignore two Lister-centric subplots, they give the thrust of the finale to Rimmer instead. Fortunately, Chris Barrie has been on good form throughout, and continues it here. Bravo.
I Think It's Series VIII Rimmer, For The Record
There were, of course, rumours in the "blogosphere" that this episode would finally reveal how the corrosive micro-organism cliffhanger in series eight was resolved, and therefore which version of Rimmer is being used here. (Don't ask.) But no, they were just taking the piss. We will probably never know. And, again, this is a comedy not a drama, so they can get away with that.
And the episode as a whole contained some fine moments, mostly for Rimmer, although Cat counselling Rimmer whilst playing with string was great. The actual plot was slight, and despite the impressive combat, still felt weirdly low budget somehow. Like they wanted to do something with epic scale, but settled for small scope with pretty pictures.
But it moved along with more pace than most other episodes this series, and leaves series ten an endearing mess. Scrappy, sometimes laboured, and probably still mostly of interest to existing fans, but a damn sight more fun than the last few series. And I gather it's among Dave's most watched shows ever, so perhaps series XI is still possible. I'd definitely tune in for it.
More Red Dwarf on Dork Adore | Red Dwarf X: Entangled – Dork Review