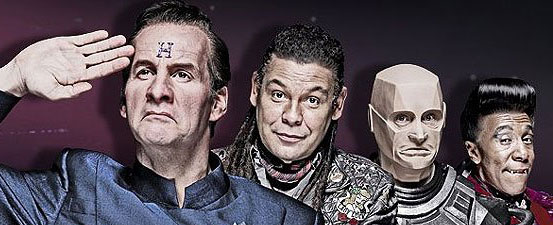 Four weeks in to Red Dwarf X, and this has been better than I expected. Not perfect, and the third one was probably the weakest, but still a more effective marriage of classic sitcom style with science-fiction than they've managed in a few series.
And this week, two characters get quantum-entangled, while another has a bomb strapped to his balls. What could possibly go wrong? Find out by watching the episode on the Dave website and then I shall tell you what I thought.
Revenge Of The Saggy Man-Breasts
For fans of the Red Dwarf era where our heroes buzzed around on Starbug and encountered hairy "GELF" aliens with saggy man-breasts, this one might twinge your gleeful nostalgia gland. The 'bug is mentioned, and said GELFs are right back on screen, not to mention the focus on plot-driven action and Rimmer quoting arbitrary directive numbers.
Unfortunately, it isn't a happy homecoming for me, due to one niggling fact: I just didn't find it that funny. I've let this show off a few plot failings in recent weeks, not to mention brief diversions into offensive humour, simply because it made me laugh and that's all I really ask of it.
There were certainly funny lines in Entangled, but the bulk of it felt like a rather ho-hum sci-fi story than a comedy. And Kryten and Cat's synchronicity wore thin quickly, without paying off strongly enough at the end.
Look! Monkey!
As I've said before, I have a lot of warm, glowy affection for this show, I get no pleasure from giving it slightly down reviews, but this was my least favourite of series ten so far. Now, that is partly because the first three episodes have been such fun, but still.
It started well, too – Lister's poker game, losing Rimmer and getting fitted with a groin exploder, is a great Dwarf episode set-up, also enjoyed the opening Lister/Rimmer dialogue – but seemed to fizzle out, as the cast simply ran from thing to thing, without much character-driven comedy beyond "Look! Monkey!".
Never mind. Two episodes to go, hopefully this will turn out to be a blip in what has still been an extremely strong run. And I have noted that others online enjoyed this episode rather more than me, so if you think I'm just being a grumpy arse, feel free to tell me below.
More Red Dwarf on Dork Adore | Red Dwarf: Fathers & Suns – Dork Review