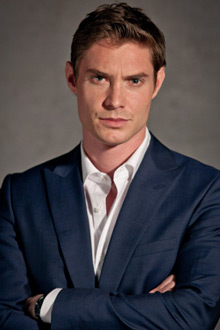 It's tough being a B-level spy on long-running BBC MI5 drama Spooks. You cruise along for months with nothing to do except chase people and mutter about it, safe in the knowledge that one day you'll be killed off to make a major storyline seem important.
But once every year or so, you get a chance to shine, and so it is for Dimitri this week. Will he rise to the occasion, or since it's the last series, will he just phone it in and die?
One Man's Chance To Shine
Ever since his introduction, Dimitri's main gimmick is being a damn nice chap, and that's a trait Spooks writers have struggled with in the past. Just ask poor, dead Zaf. But they work it nicely in this one; Dimitri struggles with his good nature throughout, as he finds himself both manipulator and manipulated.
Actor Max Brown, no doubt aware that this could be a good entry for his CV, plays Dimitri as goodhearted throughout and makes the most of it when his emotions bubble over. He doesn't project angst into space like past handsome Spooks chaps, but there's something to be said for taking it on the chin.
Unlike last episode, where the plot bled into the main arc, Dimitri's little story gets a beginning, middle and end, and I think it's much stronger for it.
Harry's Folly
Meanwhile, the whole-series thrust involving Harry and his Russian bastard takes a few more steps, alongside the cliffhanger from last week. Between all those threads, they manage to find something for everyone to do here, then bring it together into yet another cliffhanger to take us into the second half of the series.
Don't get me wrong, there are still questions: Why are Americans always evil? Why are two Russians speaking English in (dubious) Russian accents in private? Did Dimitri really escape radiation poisoning by making a Wile E. Coyote facial expression and legging it?
Nonetheless, one of the stronger, most well balanced episodes we've seen from Spooks so far this year. They kept all their plates spinning with skill, and I hope we'll see more of that in the coming weeks. Next time: it looks like Erin's turn to take her seat in the torture chair. Will her kids be killed, or merely imperilled?
More Spooks on Dork Adore | Spooks: Series 10, Episode 1 – Dork Review