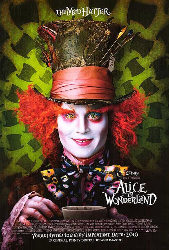 Let's get the truth out there first: Alice in Wonderland is indeed wonderful, unless you're expecting a Tim Burton film. If you're a die-hard Burton fan waiting for a warped, gothic version of Lewis Carroll's immortal story, you might leave the cinema with a bitter taste in your mouth.
Thankfully, the film is not a reboot (who came up with this term anyway?) of the Disney animated picture: the story is set 13 years after Alice's tumble down the rabbit hole, and the girl, destined to save the kooky world, doesn't remember a thing about her previous escapades in Wonderland. The CGI is Disney-worthy, the sceneries flamboyant, the colours sensual and captivating, the talents all out there.
So what's missing?
A simple answer would be the 'Burton factor': that hint of creepiness, that nudge to the dark side that Burton's best works, from Beetlejuice to Big Fish, never lacked. If you listen carefully through the THX sound effects, you might be able to hear the director's creative wheels being crushed by the Disney giant: the film is unashamedly family friendly, and even Johnny Depp, although mastering the role, doesn't reward us with a truly insane Mad Hatter. While Helena Boham-Carter, Burton's second-best muse, gives us a twisted, giant-headed Queen of Hearts, I felt like Johnny Depp could have done more even with his somewhat limited screen time.
Expectations aside, it is a thoroughly enjoyable production, with Anne Hathaway as a prancing White Queen, Alan Rickman as a Caterpillar worth waiting for, and Stephen Fry's delightful Cheshire Cat. I was impressed by new comer Mia Wasikowska measuring up to so many stars as a perfect willowy, curly haired Alice. Still, I can't help feeling that Burton, left to his own devices, would have made a more macabre, compelling film out of the story.