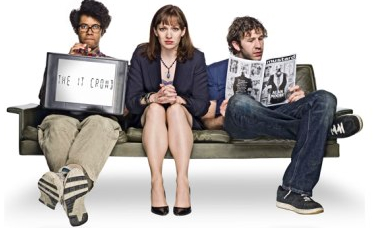 There isn't a lot of 'proper' geek TV on at the moment, as our Editor bemoaned in a recent post. Many might take this as a sign to run for their DVD stacks, but there is one show which aims for the dork audience, but some forget because it's a mere sitcom: The IT Crowd.
The new batch is half over already, but if you'd somehow missed it, like I did, it's available on 4OD still, along with all the previous series. So if you're particularly behind on your IT Crowd, there's the potential for a marathon there.
Even if you're not, the new series is looking like a good one. The most recent episode, "Something Happened", has probably been the best of the three so far, which helped put me in a complimentary mood when writing this blog post. The parody of Scientology is not low key, as is often the case in this show, but something so ridiculous is hard to mock subtly.
The IT Crowd stands out in the world of modern TV comedy via old school values. With the three-sided sets, studio audience and clear punchlines, it's resolutely upholding sitcom tradition. And I love Peep Show and The Thick Of It as much as the next trend-following internet commentator, but it's good to know that the traditional format can still work without being on ITV, utter rubbish and featuring a former cast member from Men Behaving Badly.
All of the above would still be true even if the show wasn't about geeks. And it's certainly affectionate towards them, if not striking a killing blow for nerd PR. Writer Graham Linehan isn't breaking his back to prove hardened dorks can be socially normal and have meaningful relationships with the opposite sex. Well, I suppose Roy does okay.
In fact, it reminds me a little of Will & Grace at times. We had Will, who was a standard white male aside from sleeping with men, and his friend Jack, who was camper than a whole season of Glee. And here, there's Roy, who could pass for normal if he stopped wearing such stupid clothes, and Moss, who couldn't.
But it's a comedy, and again like the sitcoms of yore, it's here first and foremost to make us laugh, not change our world. And it does a very good job, with added geeky references for we who swing that way. So if you've been affected by the Nerd TV Drought of summer 2010, give The IT Crowd a chance.
IT Crowd Series 1-3 DVD boxset | IT Crowd Series 4 on pre-order