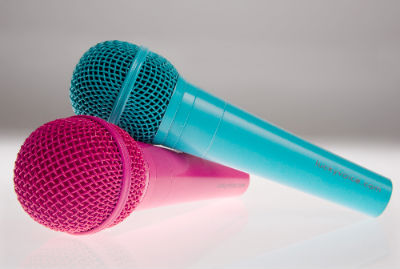 And if that's not a good enough reason to write about something, I really don't know what is.
For people who love to get roaring drunk and sing with their friends without humiliating themselves in public, Lucky Voice has long been a safe (if pricey) haven. You books your room, you buys your drinks and you sings your songs as loudly and as out-of-tuney as you like, and the only people who can hear you are those unfortunate enough to be counted amongst your friends.
Recently, the nice Lucky Voice people have started offering this uniquely addictive experience to people unable to make it to their bars, in the shape of Lucky Voice Home and the Lucky Voice Party Box. Together, they turn your computer into the ultimate karaoke machine. Until now, though, if you wanted to plug in a spare microphone you had to use one that clashed with the party Box's beautiful pink mic. No longer!
Lucky Voice has just released a spare pink and blue microphone, meaning duets can now be colour-co-ordinated and – crucially, for "Especially For You" fans – boy-friendly (because we all know that pink renders boys totally sterile on contact with their flesh). Both are high-quality dynamic microphones with metal bodies, and come supplied with a 5m microphone cable (XLR to jack) so you can connect it straight up to the Party Box's mixer. Et voila – you can quite literally have The Time Of Your Life with the chap of your choosing.
All products available at Lucky Voice Shop