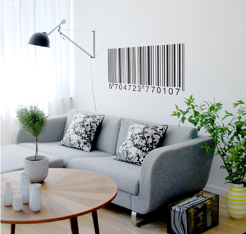 Redecorating our kitchen recently, I vowed to find an easier way to give a room a facelift without resorting to hours of slopping on paint and varnishing every nook and cranny.
Wall decals seem to be a much cheaper and easier option. The Barcode wall sticker (Rockett St George, £39.95) on the right is the ideal dork detail for a room, and can make a huge difference to an otherwise dull white wall.
Gaming geeks might like these old school console wall stickers (£26) from Wall Glamour.
I've shown the green versions here, but you can choose from 20 different colours. The pink one is particularly nice.
They're small enough to pop on the front of a cupboard or wardrobe too.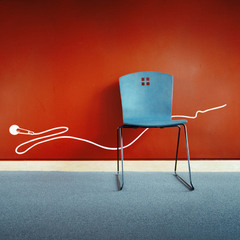 This Mic wall sticker will set the scene nicely for anyone considering buying the Lucky Voice Home or Party box set we recently featured.
This sticker is also from Wall Glamour, and will set you back £35.
Again, this selection comes in a range of colours, and I think it would look really nice to have two different coloured ones.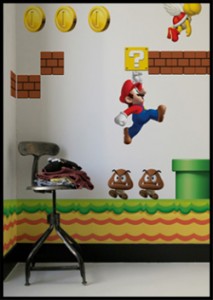 Even gaming giant Nintendo is getting in on the act, with a selection of platform game style stickers. This New Mario one on the left is from Supernice.
The pack comes with 24 separate stickers, so you can create your very own play level.
It's a little bit silly, but a fun way to decorate a gaming room or a kid's bedroom.
The range also includes a retro Mario version and a Donkey Kong kit. Each range is £65.