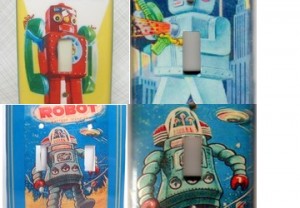 Decorating nurseries for a new baby always seems like a pointless pastime. By the time your child is old enough to notice the décor, he or she is going to have developed toddler-based design tastes and you're going to be painting everything Power Puff pink or something equally unpleasant.
So, if you're planning a new room for your newborn, you might as well decorate it how you'd secretly like your own  to be if you weren't busy pretending to be a proper grown up.
These retro robot light switches would definitely be included in my dream room – though I'm not sure they'd match those Mario decals we featured a while back, which I also want.
These ones are available from Robot Candy on Etsy. Alternatively, Boutique to You sells a fine selection of very silly lightswitches, including one in the shape of a cat.