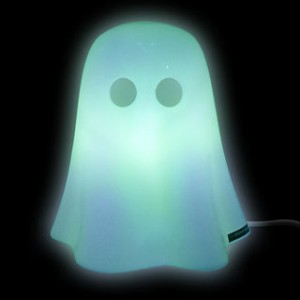 Is it wrong that I think one of these Kaspa lamps would be pretty cute hanging in a nursery? Clearly, I'm going to be one of those parents who take up quite a lot of time in my offspring's counselling sessions.
But who cares what social services think? I think a little glowing ghost lampshade would be welcomed by any right-thinking child. Especially if you told them it was a friendly ghost, good for scaring away all the other ghosts.
Just don't blame me if they end up in your bed, terrified of all the other ghosts.
They're designed by Ilsa Parry, winner of BBC's Design for Life series. The one with Philippe Starck, designer of possibly the worst mouse I've ever used. Yes, I know it was years ago, but I'm not ready to forgive yet.