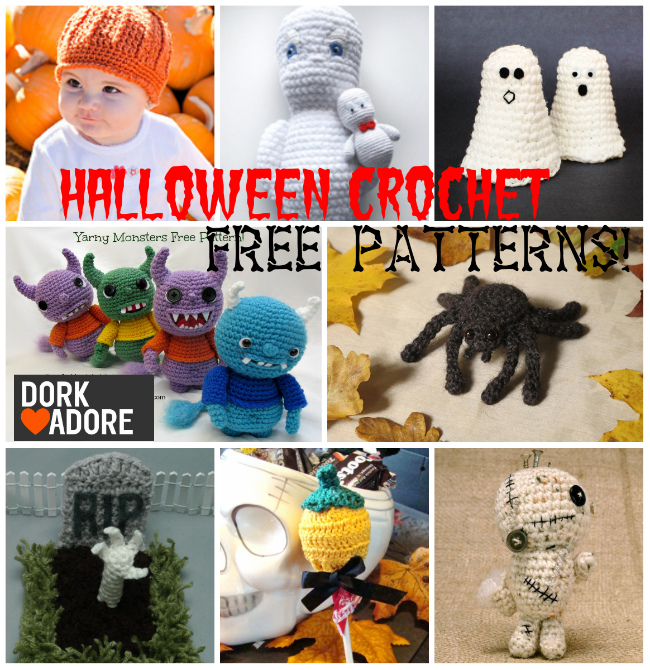 I've done it again. Whenever I start hunting down the best crochet patterns for an article like this I can feel my blood pressure start to go up.
There are SO MANY amazing patterns out there! I get palpitations just thinking about how I'll find time to make them all. I've got so many other things to do, like watch Doctor Who from the very beginning and do a fourth full run through of Twin Peaks.
Luckily, craft and TV are natural bedfellows – assuming you accept that much of your evening will be spent gawping at the TV while you hold your crochet, immobile and the rest will be spent frogging the cock ups you did while distracted by TV.
Free Amigurumi Crochet Patterns for Halloween
From top left to right.
Years ago I saw a tea cosy just like this in a tasteful Sunday supplement. It cost about £100. I spent ages trying to find out what the raised ribbed stitch was (in the days before the internet was full of crafty types).
Well now I finally know – it's called Front Post Double Crochet (or I guess Front Post Treble if you're using English stitches). I'm touched that you were all here with me when I learned that. Beautiful pattern by Cathy Kurtz – thanks Cathy!
Ahooka Amigurumi lives up to its promise of Geekiness and Stitches with an extremely cute Casper-ish ghost pattern. It's available in two sizes so you can make the big ghost its own baby. Weird? Maybe! Cute? Most definitely.
Another ghost pattern but this time it's more Pac-Man than Casper. It's a nice, simple one, so a great one for novices in the creepy crochet arena.
Most of the designs for this monster mob came from drawings by Sharon Ojala's daughter. Cute! Although let's hope they're not like Amelia Pond's drawings of the Raggedy Man. We don't want these fellas turning up at her house when she's 25. That would take the shine off her day.
Sonja van der Wijk makes truly beautiful animal crochet patterns. She was kind enough to create this one as a freebie for aracnophiles everywhere.
If you want to make Mr Creeper even creepier, give him a host of beady eyes instead of just the pair. That's a free tip from me to you right there.
By the way, if Mr Creeper is this big, I'd hate to see how massive Mrs Creeper is. Especially after this long summer.
This cheery "antigurumi" scene is available for free from Shove Mink over on her Croshame blog. "Putting the fun back into funeral."
This one involves popcorn stitch AND reverse popcorn stitch. One of my all time favourite crochet moves.
More learning just happened, people. This is shaping up to be a good day. Apparently Americans call lollipops suckers? Really? Seems a bit strange.
Anyway, this free pattern by Esther Leavitt could be put to other uses, including bottle top covers and – for the more sophisticated among you – Ferrero Rocher chocolate covers to give to your dinner party guests. Classy.
The Craft Foxes crew have modified the Crobots pattern by Nelly Pailloux to create a zombie version in time for Halloween. Aww, the little fella looks kind of cute, come here little.. ARGH IT ATE MY FACE OFF. AIEEEE!
Thanks to everyone who made these amazing patterns. If you want more free patterns check out: