Left it a bit late to get your Halloween outfit sorted this year? Did you fail to pay heed to Emma's Best Halloween Outfit recommendations last week and now find yourself in a panic?
Well now, shame on you, whatever were you thinking? Fortunately, I have been spending some quality time with the internet recently and am able to point you in the direction of some pretty darn amazing DIY Halloween costumes that you should be able to whip up in no time at all.
1. Customise a cardboard tube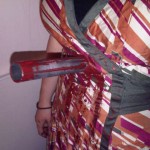 I stumbled upon this rather wonderful Spike Through The Stomach costume by gnatquill on Instructables. You should be able to make this one pretty quickly and it doesn't require much more than some cardboard tubes, paint, elastic and some clothes you don't mind destroying.
It was one of many wonderful entries in the Instructables Halloween Competition, which is a great place to take a look if you are lacking inspiration, plus the competition runs until 7th November so it's not too late to enter either!
2. Transform a hooded top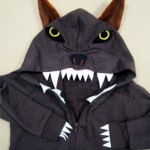 Another great idea, when time is of the essence and you have a spare hoodie to hand, comes from Martha Stewart's Crafts Dept. The wolf is just one of the examples of what can be done with a hoodie, some felt, fabric glue and a bit of imagination. If you head over to the original post you can also see the really rather impressive dinosaur hoodie and *the* best frog I have ever laid my eyes on.
This is definitely a very versatile project with endless potential for customisation which would work really well for small people too.
3. Real Vampires wear tracksuits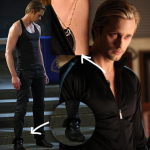 I will be exceedingly surprised if there isn't an whole slew of True Blood-inspired costumes on show this Halloween. If you really want to nail the look of your favourite character then look no further than the True Blood wiki for a comprehensive True Blood Halloween Costume How-To.
If you can pull off the tracksuit and hair foils just like a certain Eric Northman then you will have no complaints from me!
4. Go ga ga for Gaga!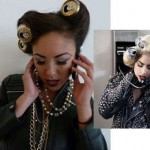 Yup, to finish up it has to be the obligatory Lady Gaga costume because you just know that's who all the cool kids will be at Halloween this year! And thanks to the lovely folk over at craftster you can make everything from a Lady Gaga red lace hat just like the one she wore to the VMA's to a mirrorball bra a la Just Dance.
If you are really cutting it fine then throw on a leather jacket, grab yourself some coke cans and wrap them in your hair. There are some great hair and make-up tips for the Telephone look on Instructables from angelabchua
Will you be donning a DIY Halloween costume this year? I can't wait to see what you come up with!