My not-quite-three-year-old daughter has been reviewing the Miffy Night Light (£14.99) for the past few weeks now and I think it's fair to say, she loves this little light-up bunny with all her tiny heart.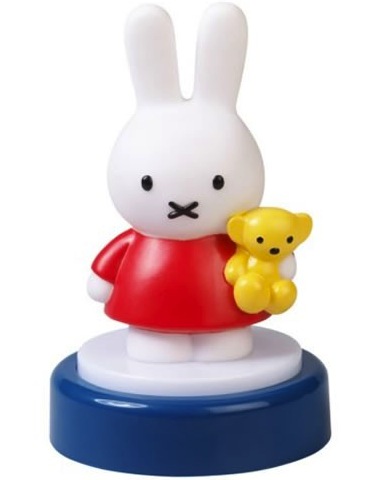 So much so that we've had to hide it.
The problem is, the nightlight is very bright – and it goes off after 12 minutes. This means that she seems to wake up every half hour to turn it back on again and talk to it. She also wakes up in the night wanting to know where it is.
Luckily, after being toddlerhandled for a week, Miffy came off her pedestal and had to be taken away for repairs. She is now super-glued back on her pedestal, but she has to live on the mantelpiece to convalesce. Poor Miffy.
Still, she no longer wakes my daughter up with her Miffy-ish glow.
Meanwhile, we used her as a lovely table candle when friends came over the other day. She's a thing of beauty and I'm not sorry she came into our lives (in her beautiful, bold Miffy packaging).
But she's going to have to live on the mantelpiece until my daughter is less mesmerised by her.
Get more Miffy amazingness from www.miffyshop.co.uk.
Miffy Night Light (£14.99)
Blue Canary Night Light | My First Music Player and Night Light | Nifty nightlights for kids