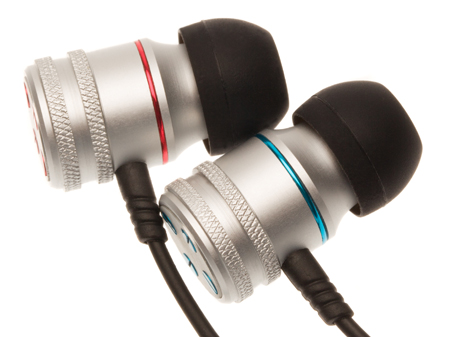 When it comes to music quality, there should be no compromise – notwithstanding the compression debate on iTunes etc. These EB-50 IEM "In Ear Monitors" from Musical Fidelity  (ear-buds to the rest of us) are the no-compromise, quality proposition you should consider when you chuck your iPhone ear-buds in your gadget bits drawer.
These IEMs have been a delight from the moment I realised that the packaging had a magnetic clasp that liberated the aluminium bullets from the holster. The buds, one red (right ear?), the other blue, are beautifully finished with distinctive, perfectly symmetrical screws.
In-ear fit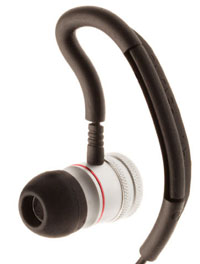 On opening the first task is to fit the buds in your ears properly by choosing the most comfortable
little rubber seal as possible. Whilst this is particularly fiddly it is not really a hardship when you're
experimenting on cutting out ambient noise and your wife is watching the X-Factor. After two
changes of little rubbery thingies I had the buds snug in my ears.
I've found the very comfortable rubber 'ear holders' to be the key to keeping the buds in my ears. They take the weight of the cable off the bud and onto the top of the ear itself, while the crocodile clip keeps the cable in place.
Time to talk quality
I've spent the last two weeks gardening, walking around and going to the gym with these in my ears. I have no complaints at all with their quality of sound or their flexibility in use. Because the buds seal your ears you lose ambient noise about you. You are almost forced to listen to the quality of the music and the quality of the recording itself (a weakness of my ripped CD collection).
Where I have the highest quality music source these little stars come into their own. Listening to a CD on these IEMs with the 6mm gold jack adaptor provided is an altogether revealing experience, in a very good way.
Extra stuff
The buds come with the 6mm jack adapter, a leatherette carry pouch and a plastic carry box containing the seven varieties of rubber sealing buds. I've found I'm using the sleek MF logoed plastic box to carry my buds rather than the pouch provided, but then there has to be one offering to the gadget drawer god.
Overall these IEMs, billed by Musical Fidelity as 'Superior Performance', are just that: superior in sound quality, feel, flexibility and comfort. And they're British. At the retail price they are a stretch, but if you want great sound quality, these are worth it.
Available from: