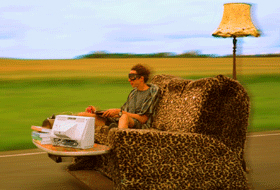 As a kid, one of my favourite cartoons was Hannah-Barbera's Wacky Races. Each episode centred around a motley crew of drivers battling to win the race in a variety of bizarre forms of transportation.
Now there's an opportunity to take part in your very own wacky race thanks to IWOOT.com. The online store has branched out into experiences, and amongst the spa days and indoor skydiving days is the World's Wackiest Racers day.
This experience gives you the opportunity to ride the world's first street-legal bed, whizz around on a leopard skin sofa, and a cruise the track in a specially designed desk (complete with working computer and water dispenser)
The one I'd love to try is the Double Decker car, as seen on this quite frankly brilliant Top Gear episode
After you've tested those, you can watch the pros take some of the other vehicles for a drive, such as the Scooby Doo Wheelie van.
Fancy a go? You can buy the experience for £99, although it might be better for a  Christmas present as the track is only open April-November.