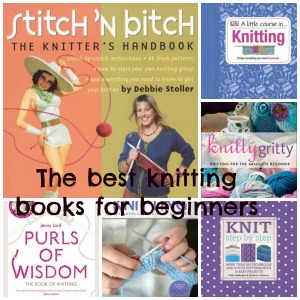 If you've recently been inspired to pick up a pair of needles and a ball of yarn so you can learn how to knit, then I applaud you on your decision. Knitting is my absolute favourite craft, and I've been teaching myself on and off for the past two years – it's been, at times, both frustrating and the most fun I've ever had.
There are a tonne of ways to learn how to knit, from videos on YouTube to joining a knitting group (which is what I did) to spending an afternoon learning from your nan. The great thing about it is that you pick the way that fits you the best.
And if you're keen on learning how to know your purls from your mosses with the help from a book, here are a couple of excellent recommendations – all picked on the basis that they won't confuse you into putting your needles back down again.
Dorian Kindersley craft books are an absolute essential. There's at least one for every craft, and you can pick whichever you like depending on your skill level. A Little Course in Knitting is a must-have, as it starts you off gently and explains everything you need to know (the motto of A Little Course in…  is "nothing is assumed and everything is explained") to help you on your way. There are over 30 projects in there, and you work your way through them as you learn new techniques.
A Little Course in Knitting is £7.99 at Waterstones online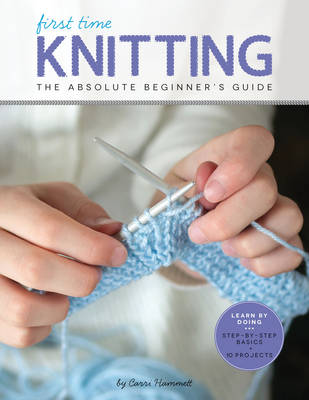 This book is divided into five sections, starting with a basics section which first takes you through the specifics of yarn and tools before arming you with the techniques to make both a garter stitch and two coloured yarn scarf. From there, it builds onto the basic technique, teaching you about texture, shaping, knitting in the round and putting individual pieces together to make one item.
The book includes nine projects, each incorporating the skills you've learned in that chapter. It's got clear and full colour pictures and clear, no-messing-around language. It's also perfect if you've not picked up your needles in a while and need a quick refresher.
First Time Knitting: Step-by-Step basics and Easy Projects is available for £11.73 from Amazon.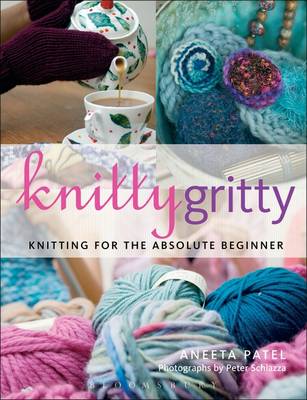 The first of two books, Knitty Gritty was written and developed by Aneeta Patel, who also runs Knitting SOS. The book is aimed at getting new knitters to the point of "beyond the scarf" and it does so in a refreshingly jargon-free way. There are of course plenty of practise projects along with the explained techniques, from the bare bones basics to things like cabling, eyelets and so forth.
As a side note, if you're ever finding yourself in a knitting pickle, Knitting SOS is (and I kid you not) a free service for knitters in need of emergency advice. You can call or email Aneeta and take advantage of her 30-something years of knitting experience (in case you need a boost) or attend one of the Knitting SOS monthly workshops. How's that for awesome?
Knitty Gritty: Knitting for the Absolute Beginner (£13.49)  is available at Waterstones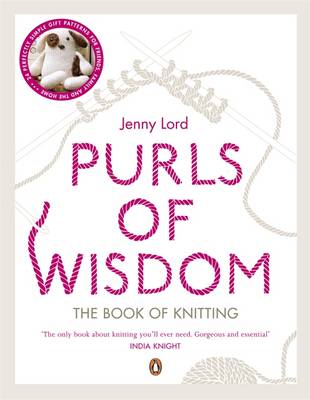 This one comes with my personal seal of approval (as well as India Knight's, who is quoted on the cover). If you're ever confused about things like how to do a particular stitch, or how to knit on circular needles, Jenny explains in a way that will make you nod your head in approval. The patterns are clear, you won't get lost in a sea of jargon and the results will make you feel a bit like a legend. Plus, the book itself is absolutely stunning. Well worth having in your craft library.
Purls of Wisdom: The Book of Knitting (£13.59) at Waterstones
In the same vein as A Little Course in Knitting, Knit Step by Step takes you through all the basics like yarn types, tools and stitches. 150 techniques and stitch patterns are included, beautifully and clearly photographed so you can distinguish ever detail. The book also includes 10 projects you can attempt with the techniques you've learned. It is a very similar book to A Little Course, down to it also being published by DK – yet it's another take on beginners knitting and very much worth getting if you want to build upon your knowledge from that book.
Knit Step by Step (£10.39) is available at Waterstones
The Grand Daddy of modern knitting handbooks, Stitch 'n Bitch is a book filled to the brim with passion for the craft. It may be a little harder to follow, considering the use of American knitting terms, but nonetheless, it's one of the best books written on the subject and I encourage everyone who wants to learn how to knit to ask a copy for Christmas.
Stitch 'n Bitch: The Knitter's Handbook (£8.70) is available at Waterstones
Check out our Craft tag for more craft inspiration!