With the nights drawing in and the air getting crisp you may be looking for a unique or quirky pair of mittens to keep your hands warm.
Or perhaps you are wondering what to dress up as this year for Halloween? Either way I may have the answer for you right here.
This is a part-knit part-crochet pattern for a set of Dr Zoidberg Claw Mittens by Kate Quinn.
That's right, your hands can now resemble the Futurama crustacean character Dr Zoidberg if you just have the crafty know-how.
It is a free pattern with a step-by-step guide. If you get stuck, creator Kate Quinn encourages users to get in touch with any questions.
Dr Zoidberg Futurama Balaclava Pattern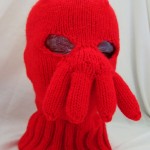 If a pair of Dr Zoidberg Mittens is not enough, why not take a look at this free knit pattern to make a Dr Zoidberg balaclava!
Now you can create a costume to wear in time for those fast-approaching Halloween parties – and you can be kept nice and warm on Bonfire Night.
Plus, you can pretty much guarantee nobody else will be wearing the same outfit…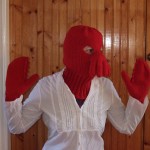 Why not finish off the look by getting yourself a lab coat from My Workware?
For another Futurama craft project take a look back at this free baby bootie Cyclops crochet pattern.
Let us know if you try out the patterns and how you get on in the comments section below or via Twitter @Dorkadore or Facebook.