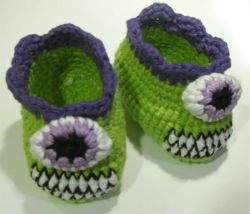 Free craft pattern alert!
In the world of adult cartoons Futurama tends to get sidelined for the classic tales from The Simpsons, or the cult status of Family Guy and American Dad. Particularly in the UK.
It's an offbeat humour that doesn't rely on cultural references like Family Guy, but goes over the head of diehard fans of The Simpsons. But while it might not have quite had the commercial success of its fellow animated shows, it has won over plenty of critics.
In fact, it won the title of "Current Most Critically Acclaimed Animated Series" in 2010 from the Guinness World Records.
Thanks to the quirky characters, it's received some attention from the crafting world too. Nerdigurumi, an expert in geeky Amigurumi, has created a free crochet pattern for these Cyclops baby booties.
Want to make them yourself? Head on over to her Nerdigurmi blog for the free pattern.
Want to further your crafting skills? Check out the rest of the free craft patterns we've written about.
More Crochet on Dork Adore | More geek craft on Dork Adore.