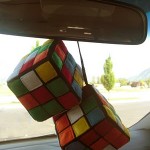 As a child of the 80s I was obviously fairly obsessed with the Rubik's Cube for a small period of my life, despite never managing to complete it without resorting to cheatery. So I was delighted to stumble across this free pattern for making your very own fuzzy Rubiks Cube on Obsessively Stitching.
Unfortunately, it is not functional — in other words you can't twist it round and solve the puzzle, but you could totally make a solved cube and beat the darn thing at its own game!
Personally I think it would make an awesome pincushion for your favourite geeky sewing pals. And if you have a car in need of a bit of pimpin' you could do worse than whip up a pair to hang from your rear view mirror just like the author of Obsessively Stitching did.
And once you are done with this project then why not try out Obsessively Stitching's other monster sized Rubik's Cube projects, the Rubik's Cube Ottoman and  Rubik's Storage Cube.
Related: Free Patterns on Dork Adore