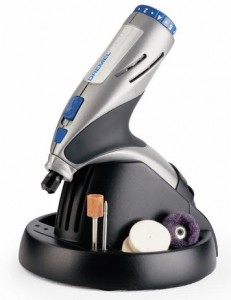 Ever since that advert where an enthusiastic Alexei Sayle told me about the wonders of a Dremel 300 Multitool, I've wanted one.
Now, I'm well aware that something that claims to be a jack-of-all-trades is most likely master of none, but such is Dremel's hold over me that when offered the chance to try out their Hobby Stylus (£59.99 from Argos), I grabbed it with both hobby-loving hands.
The Stylus is part of the new Hobby range from Dremel, which includes all manner of gadgets for crafty types, including a Glue Gun, an Engraver, a Versatip (a gas butane torch for embossing, soldering, melting, hot cutting, wood burning and welding) and a mini Project Table.
In true Dremel multi-tasking style, the Stylus is designed to be used for jewellery making, woodworking, glass engraving and similar crafts.
So how did I get on?
Well, using it certainly takes some getting used to and I'm still sitting on the fence with this particular product.
It comes in a large metal box with compartments for 25 accessories so you can keep it all nice and tidy. Of all the gadgets in the range, the Stylus is the tool that is designed to do the most stuff but you'll have to make the effort to find out what capabilities it has because the instruction booklet supplied really doesn't offer any advice.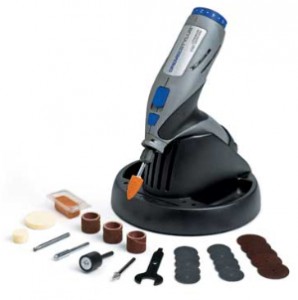 Instead, you'll need to visit the Stylus product page where you can download a manual and find out exactly what tools have been included in your kit.
While I can see how a gun-shaped tool is useful when it comes to certain tasks, I wished it could be swivelled into a pen shape so that the handle didn't get in the way when sanding and engraving.
I wanted to use the Stylus to neaten up a carved spoon made from green wood, but while the sanders certainly saved me a lot of time, I think it will take quite a lot more practice before I feel in control.
The same goes for the engraving, which was a pretty fiddly process and made me aware of the tool's limitations.
With every job I did, I soon discovered that I needed a wider selection of engraving tools. In fact, the photos in the box show people using heads that aren't supplied with the starter pack (which is pretty sneaky). Sure enough, you'll find a huge selection of attachments on the website (though finding out where you can actually buy them isn't all that easy). You'll probably also want to equip yourself with the Project Table, which is a must-have if you're working on fiddly projects.
I was very nearly sold by the the Stylus, but I just wish there were a few more heads included with the starter pack. As it stands, without a specialist area sewn up, the Stylus is not quite good enough at sanding, or engraving, cutting or polishing. It really is a jack-of-all-trades and master of none.
But, if you're prepared to pay for some additional bits (and you can actually find them), you may find yourself getting as excited about this gadget as Alexei Sayle did all those years ago.
Gains points for:
Taking the strain out of basic tasks like tidying up carved projects
Nice re-usable packaging
Idiot-proof out-of-the-box usability
Loses points for:
🙁 Not including enough heads
🙁 Not supplying enough help in the box
🙁 Not offering a swivel head design.
In short:
I really wanted to love this product, and I very nearly did. I'll definitely use it for wood working projects, but not until I've forked out for a Table and more attachments.
Find out more on the Dremel website.
UPDATE: Dremel got in touch to say that accessories can be bought from www.dremel-direct.com