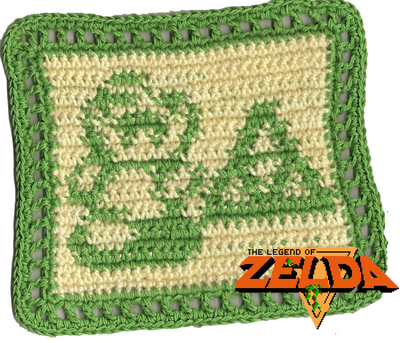 This is a very simple crochet (or knit!) retro, pixellated Link (and the Triforce!) pattern from Nintendo's Zelda game. It was made with love by your editor and is now available for you to download and hack to your heart's content.
This is the first attempt, so I hope to see many improvements on the original design!
Download free Zelda Crochet/Knit pattern (incl brilliantly photoshopped graph).
Simply make rows of Double Crochet (US Single Crochet), turning at each end to work forwards and backwards. Each square represents one DC (US sc).
Materials
2.5mm crochet hook (MM)
Mercerised cotton, using two strands of cotton for each for extra thickness.
NB. You can use any yarn and any hook size you want to achieve your preferred look and feel!
How to make Link crochet patch

– Chain 31 to begin. DC (US sc) into second chain on hook and continue along. You should have 30 stitches in each row.
– Chain one to turn – this counts as your first DC (US sc). If you find this confusing, use a stitch marker.
– Carry the colour not being used across or through the back of the mat. However, remember to check which side you are on at the time or you'll end up with wool at the front! Don't worry about this too much, however, the messiness adds to the final gothic look.
NB. The pattern is slightly different to the photo – I've added an extra space between Link and the Triforce, and shifted it all over to make the yellow edging on the right more prominent.
To finish:
For the edging, I just did a row of double crochet (US sc) and then a row of trebles (US dc) with chain spaces in between. With three trebles (and spaces) in the corners. Finishing with a row of double crochet (US sc) with a stitch in each treble and each space.