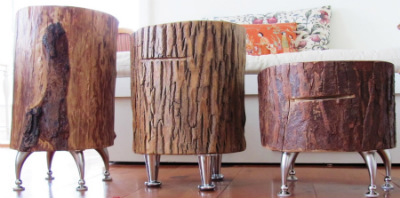 If you have a funky, eclectic style like me, you're always looking for something that'll light up your space; literally.
And I'm not talking about the gaudy side lamp Aunt Milly gave you for your birthday. No. What I'm talking about — my dorky devotees — is the future of home decor.
Here is my list of the next five gems to hit the market.
Tree Trunk Tables by Nickadoo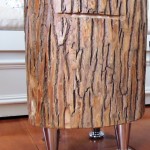 Nickadoo wants to give you wood!
Bad joke, I know. But for the dorky outdoorsman or woman in you, these quirky tree trunk tables are a great green-asset to any home.
Selling points: There's always the potential for great jokes beginning or ending with "wood".  See?
Playstation Table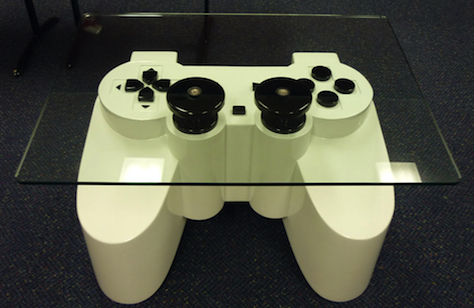 This is every gamer's fantasy. And there's only one in existence right now. I'm sure Australian high school student and creator, Mark M., will be happily selling his design for a few million soon.
Selling points: Unfortunately not on sale but when it finally is, you're gamer boyfriend or girlfriend will be so grateful.
[Image: OCAU News]
iTable
First there was the iPod, iPhone, and the iPad. Now, I bring you iTable! (Tada!). Don't get too excited, it doesn't actually have the working capabilities but it looks pretty cool, right?
Selling points: It's a giant iPod…need I say more?

Kenan Wang Twist Chair
I bet you're wondering what in the world this thing is. Want to take a few guesses? No? Alright, I'll just tell you. It's a…chair! This twist chair from Kenan Wang looks more like a Rubix cube if you ask me, but I still think it's pretty neat!
Selling points: With this very modern art-deco look  you could probably spend hours trying to find a new way to sit in it.

Rowen Wagner Grandson Clock
It's time to trade in Grandfather Clock for something exceptionally younger (and hotter). Rowen Wagner's Grandson Clock is a modern twist on your grandparents' bulky time-teller.
Selling points: The sleek , light-weight design will rival any clunky clock.