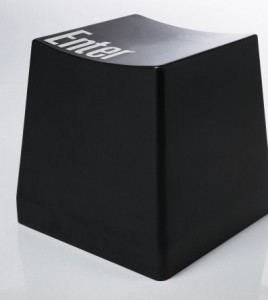 I have a feeling this'll be a Marmite piece of furniture. It's an Enter key stool.
Those who love it will coo over a giant Enter key you can sit on (Fact: giant versions of little things are almost as brilliant as miniature versions of big things.)
Those who hate it will point out the pointlessness of it, then howl with laughter when they see the price.
The Enter Key Stool is from I Love Retro at Bouf.com, and will cost you £120.
If you fall into the love camp, you might want to check out the rest of the shop for kitsch finds.
Personally, I think it's quite cute. I need a little stool for my office, and it's nice to get furniture in that matches your gadgets..
Does it get the thumbs up for your geeky abode? Or would you rather spend the money on something more useful?