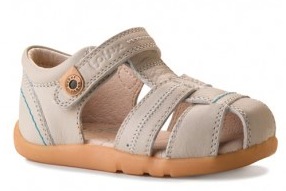 Think of a high-quality early walking shoe for children and chances are you just thought of Bobux.
Often copied, the Bobux Soft Sole range for babies really are iconic shoes. But the New Zealand company also makes footwear for older children, with a soft leather Step-up Cruising shoes range for early walkers and an i-Walk range for more sure-footed toddlers.
Children should go barefoot as much as possible (despite my mother's obsession with telling all her grandchildren to put slippers on). Bobux attempts to get as close to the barefoot experience as possible with soft leather and excellent design.
Barefoot is best
Sizes vary a lot from brand to brand, but thankfully Bobux has supplied a printable sizing chart that will make buying online that bit easier.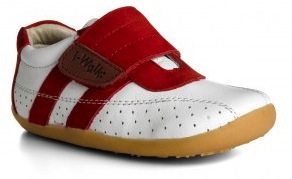 Children's shoes are eye-wateringly expensive, but thanks to the "daily deals" section of the site, you'll be able to grab bargains online – if you're quick enough.
What's really lovely about Bobux shoes (aside from the obvious high quality) is that the designs and colours are really varied and not at the usual stereotyped "pink glittery fairy shoes for girls" and "boring brown for boys" ranges you tend to get elsewhere.
As a mother of girls, I really object to the princessification (that's a word, right?) of our young females. But worse than that is the total impracticality of a lot of girls' shoes. How are girls meant to run around and enjoy playing sports if they're shod in toe-stubbing strappy sandles?
Bobux has a great range of toed sandles for girls and boys, as well as some decent gender-neutral colour variations – including these lovely red and white sports shoes (left)
My daughter loves her toed sandles (pictured top) – especially now the weather is warmer – and I love the fact that she can run around safely without getting cheesy feet in eco-friendly leather.